A look back at the first half of the GPL
Garena Premier League
is South East Asia's premier League of Legends competition. The league consists of 6 professional teams owned by the 6 individual regions of Garena: Taiwan (
Taipei Assassins
), Singapore (
Singapore Sentinels
), Vietnam (
Saigon Jokers
), Thailand (
Bangkok Titans
), Malaysia (
Kuala Lumpur Hunters
), and Philippines (
Manila Eagles
). The league is in the mid-season break in the 16 week season where the teams play a total of 32 games (2 per week). MOBAFire is going to use this break to get you caught up with this fantastic League of Legends competition.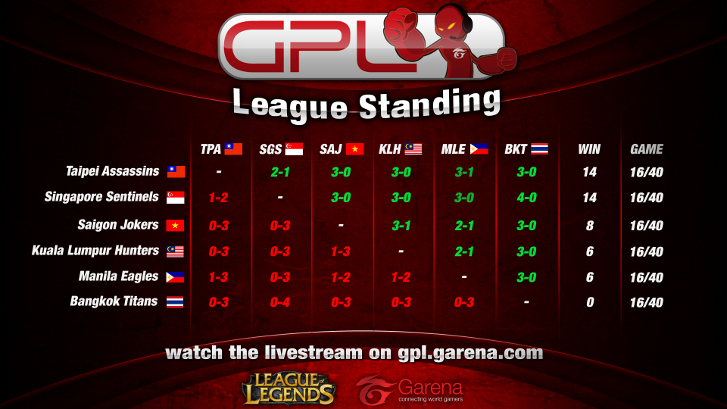 As you can see, Taipei Assassins (Formerly called FTW) and the Singapore Sentinels have strong lead amongst the other teams. However, as the league has progressed, the lower teams like Saigon Jokers, Kuala Lumpur Hunters, and Manila Eagles have shown great skill that will sooner or later catch them up to Singapore and Taipei.
The Singapore section of the GPL has produced some great English content for all of the English speaking fans. They have produced weekly highlight shows which include popular picks from the last week. Along with the highlight show they produce great content that creates stories around the team and has created quite a rivalry between Taipei and Singapore. Images like this the week before a match between the Sentinels and the Assassins:

GPL Week 4 Highlights
That was the last highlight show that Garena Singapore did. Over the last few weeks they have produced more content based around the Sentinels. If you like the highlight show, tell them, surely they would bring it back if people tell them they like it.
Singapore and Malaysia are the only two teams creating English content. So if you want to catch up on VODS of the first 8 weeks of play, you can catch up on all the matches over in the
GPL's Video Section
! The video content also has a fun show called In The League.
Now you should be caught up on this exciting league. For more info check out the GPL Website and also check out the statistics that they track. We will leave you with the most exciting game over the past few weeks:
GPL Week 7- Taipei Assassins versus Singapore Sentinels
More eSports Headlines
Join eSports Central!
Do you enjoy watching and learning from the professional League of Legends teams? Do you enjoy writing? If yes, MOBAFire eSports Central is always looking for writers to help cover North American and European League of Legends Championship Series, Garena Premier League, Champions, and more competitions throughout the world.
Contact us today
to start your eSports journey.
eSports Streams
Reginald
Pro Streams