Ekko Build Guide by Analium X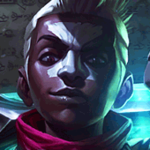 Ability Sequence

2
4
5
7
9

1
14
15
17
18

3
8
10
12
13

6
11
16

Masteries
0

Ferocity














12

Cunning















18

Resolve















This is my first guide, so this is going to be quick, i have no idea how to make it look great so I'd rather just write important things I think of.

About the build
-it farms quickly, meaning that Ekko can push lanes fast and get back to his team
-it has a strong team fight potential > you're really tanky while having red smite and nashor's, which lets you deal a lot of damage (with your good amount of AP, your CDR and your AS), your R heals a lot since you have AP and you have great CC since you can spam your W with your CDR
-Fozen Mallet is usually the last item i get, it has a lot of health and an really strong passive which makes you impossible to get away from with your high mobility.

If you have question or critics or whatever, feel free to ask me!