Ekko Build Guide by spark2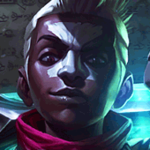 Ability Sequence

1
4
5
7
9

3
14
15
17
18

2
8
10
12
13

6
11
16

Masteries
12

Ferocity














18

Cunning















0

Resolve















Threats to Ekko with this build
Threat



































Show all
Threat
Champion
Notes

1

Anivia
Food. Her Q is super easy to dodge and her wall (her only real protection) is useless against Ekko and his double dashes. She can trade a bit better once she hits 6, and is a monster late game, but in lane she is a three course meal for you.

1

Karthus
Karthus is the freest kill you'll ever get. Dash in, proc your passive and run out of his E before he knows what happened. If he catches you in his W, try to either dash again or move unpredictably. He's a danger to your team come late game, but he's the easiest lane you'll ever have.

1

Ekko
You read this guide, so obviously you're going to do better than the other guy.

1

Fiddlesticks
You should be so lucky to go up against a Middlesticks. He literally stands still for most of his damage and sustain, so you can land W's all day and make his life hell. He's got a lot of CC, so early Merc Treads is a good idea to shut him down. Keep your bushes warded and this is a free lane.