Build Guide by RegeNade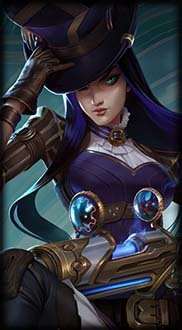 Recommended Runes
Ability Sequence

3
4
7
8
10

1
5
9
12
13

2
14
15
17
18

6
11
16

Mastery Tree Is Outdated
WARNING: These masteries are still using the old tree and have not been updated to the new tree by the guide author. As such, they will be different than the masteries you see in-game.
Masteries
mastery tree: a basic 21-0-9 build, 21 in attack for bonus damage, 0 in defense, 9 in utility for faster health and mana regen + exp + advanced clearity for your team in early game.

skill sequence: lvl ur ulti when u can. take yordle trap first to explore bushes, then 90 caliber net to flee ( remember the knock back! ) and at last piltover peacemaker. In farther game lvl piltover peacemaker first followed by yordle trap and last 90 caliber net.

runes: - attack speed.
- life ( for early game advantage ).
- armor penetration.

items:

berserker greves --> movement and attack speed.
seal --> movement and attack speed.
frozen mallet --> life and damage.
infinity edge or vampiric scepter ( depending on how good u go ) --> damage, critical and lifesteal.
( last whisperer if u play against tanks --> armor penetration )
phantomdancer --> critical, attack speed and movement.
bloodthirster --> lifesteal

game: not a lot to say here, always stay at range because that is your best weapon! If u can fight inside bushes it supports ur passiv with a headshot every 3 shots!
Scheduled Tournaments
Drop-in Games