Build Guide by gulag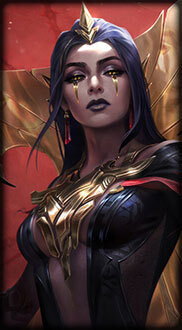 | | |
| --- | --- |
| Cooldown Reduction | 22.47% |
Recommended Runes
Ability Sequence

1
3
5
7
9

2
8
10
12
13

4
14
15
17
18

6
11
16

Mastery Tree Is Outdated
WARNING: These masteries are still using the old tree and have not been updated to the new tree by the guide author. As such, they will be different than the masteries you see in-game.
Masteries
This guide will have a proper description as soon as my real life allows it. In the meantime, just try the build out!

1v1 combo:

Sigil of Silence >
Mimic >
Distortion >

Ethereal Chains
Team Fight combo: (out from the bushes or another hidden place)

Sigil of Silence on nuke/healer >
Distortion >
Mimic >

Ethereal Chains on the last one alive

The game is going well? Grab

Mejai's Soulstealer after
Boots of Speed and forget about

Guardian Angel.

Full AD team? Get

Frozen Heart instead of
Abyssal Scepter.

They've got an Evelyn or some heavy CC? Get

Banshee's Veil or

Quicksilver Sash.


Remember, you're squishy, so you want to stay hidden until the team fight starts, and just pop out and kill everything after.


Teleport is a must in any nuke, so no arguing about it.

GG all.
Scheduled Tournaments
Drop-in Games