Build Guide by Peck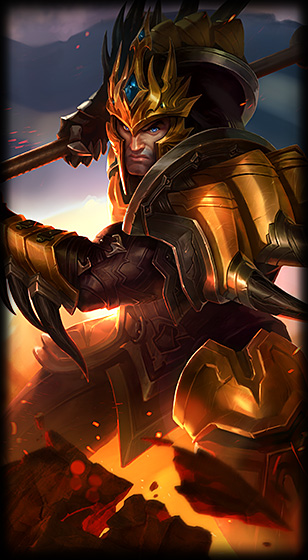 Recommended Runes
Ability Sequence

2
8
12
13
14

4
10
15
17
18

1
3
5
7
9

6
11
16

Mastery Tree Is Outdated
WARNING: These masteries are still using the old tree and have not been updated to the new tree by the guide author. As such, they will be different than the masteries you see in-game.
Masteries

Jarvin IV Pros and Cons
Pros
Decently Beefy
Lots of Damage
Good Initiator
Pop Up
Amazing Harasser
Amazing Sheild
Cons
Needs decent team-play
Gets targeted
Moderate difficulty to play

Summary
So basicaly this build focus's more on attack speed, damage and life steal making Jarvin IV a dangerous foe. I max Standard first because of the increased attack speed and then i usually go for sheild or dragon depending on if im getting harassed or not. I get Phage early for the attack and health then beserkers boots for the attack speed. Frozen mallet is one of the most useful items for Jarvin as it gives him lots of health and a passive slow that will ensure you will catch most enemies you are facing. Then i get a Blood thirster for the massive damage and lifesteal and then a black cleaver for the armor pen which usually combined with dragon strike allows you to do true damage to your enemies. The other two Bloodthirsters are what i recomend for most games but on occasion you may want to get something like banshees to make up for your low magic resist. Sunfire and Guardian angel are also viable choices. Because Jarvin is naturaly beefy you do not really need items that make you more tanky.

Strategies
-If you combine your standrad with dragon strike the result will either be a quick dash or a useful pop up. Usually it is a good idea to place your flag where your enemy is going to be. Your flag strike combo can also be used to dash through walls which can help u either chase or run away.
-Your sheild is one of the most useful skills on jarvin. It can be used either for chasing or running away as it has a nifty slow and sheild which charges up on how many champions are nearby. Try not to spam this too often though as it has a pretty long cd and that can mean life or death.
-Jarvins ult is one of the most viable ults I have seen in awhile. With it you can chase down enemies or initiate a teamfight. I recomend using it on people who do not have flash or a wall dash. I also recomend that you use it on the enemy teams cc or their physical carry. TRY NOT TO TRAP YOUR OWN TEAM-MATES (Can be disastrous)
Scheduled Tournaments
Drop-in Games