Jhin Build Guide by N1ngendo

Commend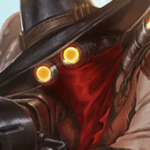 Ability Sequence

1
3
5
7
9

2
8
10
12
13

4
14
15
17
18

6
11
16

Masteries
18

Ferocity














12

Cunning















0

Resolve















Threats to Jhin with this build
Threat










Show all
Threat
Champion
Notes

4

Ashe
Ashe and Jhin have nearly same range, its annoying with her W, but your Q and 4 will outtrade her. Watch out for her Ult!

4

Sivir
Sivir is a good pick vs Jhin cuz her spellshield counters your Q,W and also Ultshots, but that doesnt make her win the lane. You have more range and more DMG. You just cant win a 1v1 until lategame. But Jhin can never 1v1 other ADC's until lategame. You have both great scalings into late. But I would say Jhin is stronger.

4

Vayne
Pre 6 its easy during lane, she has 0 range and 0 dmg while you have tons of it. But as soon as she hits 6 you should avoid fighting. You cant win a 1v1. Vayne is the only ADC I would consider stronger than you in lategame. She was basically made to destroy everything in late. Abuse her early weakness.