Katarina Build Guide by Ubnoxius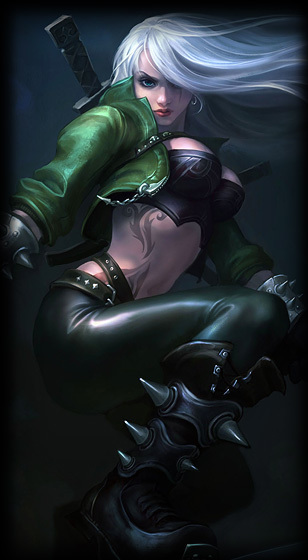 Recommended Runes
Ability Sequence

1
4
5
7
9

3
8
10
12
14

2
13
15
17
18

6
11
16

Masteries
Here we go, My name is Vuma, (been meaning to change my name for a while now) currently Plat 3, and today I'll be teaching you a little bit about

Katarina
ign:SoundVox
+

No Mana


+

CD Resets


+

High Multi-Target Burst


+

Can Ward Hop

-

Very Fragile


-

Good Positioning is Key


-

Useless if CC'd


-

Terrible Laning Phase
| | |
| --- | --- |
| | 1When playing Katarina, you need to always keep this in mind... "I have no mana, spam abilities." 2Always carry around a ward, it may save your life. To make it easy to ward hop, you may have to change your keybindings if you haven't already, its very easy and there are tons of videos on youtube of how to do it. I like to put my wards on the 3 slot because it's right next to Shunpo (the E key) so I can easily slide my finger down and Shunpo to the ward immediately as I put it down. 3Take advantage of Katarina's high burst. Gank bot lane whenever you can! Carrying the team by yourself, while satisfying, is not the safest way to win a game, you need your teammates and yourself to win the game. 4When you are about to engage a fight, try to bait the enemy's CC abilities. If Katarina gets CC'd while ulting you better pray your teammates can kill your enemy to give you that reset, because if you get caught and you've already used Shunpo you're as good as dead. 5To make any good of Katarina's bad laning phase, try to use Bouncing Blades to last hit minions, rather than to poke - Minions > Harass. |
RUNES AND MASTERIES
First things first, Before you get into the game make sure you have your runes and masteries set
6


Great choice for early poke in lane and minion last hitting with Bouncing Blades, a standard choice for any ap champion



Take the 1 point in Double-Edged Sword to

maximize your damage output, 4 points in Sorcery

because the CDR is amazing on Katarina, 1 point in

Butcher to make it easier to last hit, 3 points in

Mental Force for extra ability power, take

Arcane Mastery for the extra early game ability power,

3 points in Archmage to increase your damage even more,

take 3 points in Devastating Strikes which will help

a lot as Katarina can take advantage of both magic and

armor penetration, then take Arcane Blade for easier last

hitting and extra damage on your Bouncing Blades mark.

and take the last point into Havoc



for the increased overall damage
I take my 9 points into the defensive masteries like this,



Start with 2 points in Block as 70% of your matchups are



going to be ranged champions and you want to take as little





damage from auto attacks as possible, combined with



Doran's Shield you will be very tanky and sustained during

laning phase, take 2 points into Recovery for some

early game sustain, stacked on with Doran's Shield, take

Unyielding for extra defense from enemy champions by 2

(could save your life), take 3 points in Veteran Scars for



extra earlygame health and the last point willgo into



Juggernaut for extra overall health
DONT PICK KAT WHEN THEY HAVE MASSIVE HARD CC OR SILENCES LIKE

Wukong

Riven

Malphite

Alistar
Kassadin

Talon
More or less, If you do get counter picked by one of these champions, watch when they use their cc abilities before you go in and use your ultimate

But remember this. A good

Katarina has no counter...Seriously
| | | | | |
| --- | --- | --- | --- | --- |
| | | | | I take Flash and Ignite about 99% of all my games, it gives you good mobility and a few extra ticks of damage when you need them. In certain circumstances I will take others. |
If you're going against a Zed you can opt to take Barrier instead of Ignite to block his Death Mark damage or if you are just getting the grip of Katarina, you can chose to play a little safer by taking Barrier.


(GrandmasterD's Input)

I really really really really really love this start on Katarina, It really gives you everything you need, Health, Sustain, Blocks 8 damage from auto attacks, what more could you want!

Always try to buy these on your first back, the Sorcerer's Shoes
1 or 2 Stealth Wards and some Health Potions are all you need

Next buy the Fiendish Codex. It gives you 10% CDR which is very good on Katarina as you can continually spam abilities, and it gives you a little extra ability power
| | | | | | | |
| --- | --- | --- | --- | --- | --- | --- |
| | | Deathfire Grasp will be your first major purchase and when you buy it your damage will spike incredibly but don't forget to use the active | | After your DFG, you can either rush Rabadon's Deathcap if you are doing well, but if you aren't doing so hot you should get Zhonya's Hourglass instead and buy elixir's, they really help a lot mid game | | at this point in the game I will usually get Abyssal Scepter as it shreds through a lot of MR and it gives you a good amount of MR and AP as well, if they start to stack MR, get Void Staff |
| | | |
| --- | --- | --- |
| | | For my last item I always take Guardian Angel it makes you pretty tanky and restores some life to finish off those bastards when they kill you, and rember to buy those elixirs |
| | | | | |
| --- | --- | --- | --- | --- |
| | | | | Voracity is definitely one of -the- strongest passives in the game, it gives you an ability reset whenever you get a kill or assist, and this should be your main goal during teamfights. If you are constantly getting resets the enemy team will blow up. gg |
| | | | | |
| --- | --- | --- | --- | --- |
| | | | | Death Lotus is your pride and joy, this ultimate has incredible damage and can be hit upon the 3 nearest enemy champions. Use when all inn'ing (obviously) or for simple harass to force your opponent out of lane *it has a very short cooldown* take a point in it whenever possible |
| | | | | |
| --- | --- | --- | --- | --- |
| | | | | Sinister Steel is a very short cooldown ability but very little damage on it's own. Use it for picking up close range minions when farming and for simple harass against melee enemy champions if you can get close to them |
| | | | | |
| --- | --- | --- | --- | --- |
| | | | | Shunpo is an instant transmition ability, meaning it instantly warps you to your targeted location. Good for getting around the map, use it on a minion to get back to lane faster and *Use the ward hop technique* if you are being ganked or chasing someone |
Ok, gameplay, lets start with this. Katarina's laning phase is absolute ****, so if you get past it, you will destroy the game. During the laning phase, try to farm as much as you can. Use your Bouncing Blades and Sinister Steel to last hit if you need to. If you dont need to, use them to harass when the enemy tries to kill minions. In a normal Katarina laning phase - Minions > Harass.

Gank bot lane alot! It's super easy and super effective, just walk through the tri-bush and walk up to them, say "hi", press R, take the tower, take dragon, take the red buff, Hell! take the golems too! And if top lane says he needs help because he's feeding the Jax go up there too. To make a long story short - HELP YOUR TEAMMATES

In teamfights, always let someone else initiate for your team. If you go in first, the entire enemy team will CC you to hell and stick your blades up your ***...and you'll have just lost the game for your team (#howtolosegames2013) The only time you will be engage yourself is when you find a helpless Caitlyn wandering in the jungle waiting to be eaten. Once again, walk up to her, say "hi", pop that Deathfire Grasp, press R, drop that disrespect (ctrl+4), and walk away - rinse and repeat.



And most of all...Have fun!
Well I hope you found this guide useful, I enjoy teaching people, don't forget to leave a comment about anything related to the guide in the Discussion tab and give it a +1 rating if it helped :D
Scheduled Tournaments
Drop-in Games