Twisted Fate Build Guide by Manzey

Commend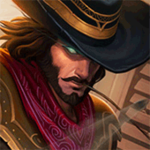 Cheat Sheet


Mid Lane Twisted Fate
Twisted Fate Build
Ability Sequence

2
4
5
7
9

1
8
10
12
13

3
14
15
17
18

6
11
16

Masteries
12

Ferocity














18

Cunning















0

Resolve















Threats to Twisted Fate with this build
Threat



































Show all
Threat
Champion
Notes

1

Ahri
Ahri is one of the match-ups that you will actually WIN, and not go even in, seeing how TF does not have many winning match-ups

1

Katarina
You will win every match-up here as Katarina can't trade, just make sure to not take as much damage from her Q. If she jumps you, just Gold Card Q her and back off.

1

Akali
Free win matchup, Akali can't trade with you, pre-6 you bully her, after 6 you can gold card and poke her all you want, just make sure to save gold card for her to jump you, cause otherwise she will and can kill you.

1

Karthus
Get boots + ghost, when fighting pop ghost and just run around and he won't be able to hit any of his Qs and you'll win trades. Get Zhonyas midgame, to avoid Karthus R.

1

Kassadin
Free win lane. You can crush him pre-6 and crush him after 6, if he jumps you, gold card Q him and back off and you'll win trades.

1

Fiddlesticks
You hard counter him, he can not do anything, except with a suprise ulti... maybe.

1

Jarvan IV
Simple matchup, sure he can poke for alot, but other than that he is pretty useless.