Twitch Build Guide by wiror

Commend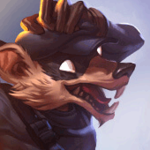 Cheat Sheet
Choose one and try it out! Don
Twitch Build
Ability Sequence

3
9
10
12
13

1
14
15
17
18

2
4
5
7
8

6
11
16

Why would I use these?
Well, nothing forces you to. Hello! I'm wiror, bronze 2. I was dropped there after the, how is it called..., the provisionals? Anyway, it's my first season here. I always found that there was little builds for twitch I really liked so, I tried to make some of my own. Maybe some wont work in ranked maybe some will, I'm open to constructive criticisism as always :)

For now I personnaly find that the tank destroyer build path is the most effective in this meta (because tank meta). So, maybe I'll see you on the rift! Until then, have a nice day.