by
[deleted]
July 27, 2012
As a celebration of the launch of our new eSports Central, the first MOBAFire Community Cup was held this month with over 200 teams competing for 40 products from Kingston Hyper X, Gunnar Optiks, and Tt eSports. Now, the action is finally over and out of those 200+ teams, three teams have managed to claim their prizes after an intense and fun weekend.
read more
(2 comments)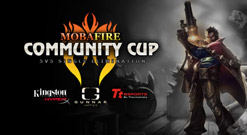 by
[deleted]
July 4, 2012
UPDATE: Unfortunately CSN's website was DDoSed at the start of check-in time. With that being said the tournament will be rescheduled to start tomorrow. All teams will still be able to finish registering and checking in tomorrow. CSN will be contacted all team captains with more details.
To commemorate the launching of the MOBAFire eSports Central, we are excited to announce that we will be running tournaments again! To start things off, we'll be running a Community Cup for amateur players with 40 products up for grabs for the top 3 teams from Kingston Hyper X, Tt eSports,...
read more
(74 comments)
More Community Cup Coverage »