The 2nd game starts around 1:13:00
I should note that MegaZero was subbing in the top lane for Curse Academy and their new top laner, SwainGretzky, went mid to replace Pobelter. The squad certainly wasn't at full strength, however they showed in the first game that they could at least hang on early game against Cloud 9.
The problem with the first game was the way Curse lost it. They had a commanding lead with greater than 10% gold lead at the 12 minute mark and Cloud 9 seemed like they were in a bad position if we just looked at the gold numbers. However, Cloud 9 played a reserved style for the first 20 minutes and then they exploded by taking down towers, eventually forcing and taking the dragon right from under Curse, and then got kill after kill. Curse fell apart at the end of the first game and it probably carried over into the second game.
The Picks and Bans of the Series
Game 1
Game 2
We need to look close to the picks and bans to fully understand how this stomp happened. It is obvious that Cloud 9 targeted the stand-in, MegaZero, because he would obviously be the weakest link in the team. Banning out

Riven
and

Renekton
removed the major threat of MegaZero. His

Malphite
is good but has much less carry potential when compared to his Riven and Renekton. They also targeted

Swain
because of SwainGretzky, his favorite champion is in his name, easy ban!
Curse's bans on the other hand were a lot less pointed. In game one they banned what is mostly considered OP in the current meta and first picked an OP champion. The players from Cloud 9 do play great
Kha'Zix
,

Jayce
, and
Elise
but they are good on a number of champions. Unfortunately for Curse, there were no obvious weaknesses in the lineup of Cloud 9. Most teams target Hai when they ban against Cloud 9; it hasn't really worked out yet. In game 2, they banned

Zac
because teams consider him 'OP' (usually banned or first picked) and they didn't want him in the hands of Meteos because the alien is a true terror in his hands. They also decided to take out

Ryze
because he was very hard to control once Balls got him going in the first game. Last they banned out Jayce which both Balls and Hai can play. That led to a first pick
Kha'Zix
.
We see this so often in the competitive League of Legends scene when there is a best of whatever series. A team does really well with certain champions in game 1, so in game 2 the other team is reactionary with their bans and picks. In this series, we saw Balls on

Ryze
have a good game once he started to stack his

Tear of the Goddess
and Curse banned it the next game because no one really plays it on their team. Altec took

Ezreal
away from SneakyCastro and MegaZero took

Kennen
away from Hai, as if those are the only champions those players can play. What they found out is that Hai is probably better on Kha'Zix than Kennen and SneakyCastro can play Varus just as well as he can play Ezreal. Also, they banned Ryze and that seemed like a good decision but Balls is known for his play on

Rumble
which allowed him to get that comfortable champion as Cloud 9's fourth pick.
The Problems of Jungle Fiddle
Next we have the unorthodox

Fiddlesticks
in the jungle for IWillDominate. A champion that really needs blue buff to succeed in the jungle. As
Aidos
wrote about a couple weeks ago in
his article on Cloud 9
, a jungler that really is susceptible to counterjungling is a bad idea against Cloud 9 because they will time and pressure their opponent's buffs making it difficult for the opposing jungler early game. Unfortunately for IWillDominate the pressure came at level one while trying to take his blue buff. LemonNation and SneakyCastro pressured him and it led to a very unfortunate turn of events for IWD where the blue buff went to SwainGretzky from the

Nidalee
trap killing the golem. Also, IWD ended up getting chunked down because he got hooked by a

Death Sentence
, so he was without a blue buff and had to return to base which put him significantly behind.
Meanwhile - while the battle of the Purple Side Ancient Golem is going on - Meteos, Hai, and Balls took the red buff with only SwainGretzky attempting to defend it. The early game for the junglers tallied up to Meteos with two red buffs and one blue buff which left nothing for IWillDominate since his blue went to SwainGretzky.
Early Aggression to Extend the Advantage
At 4 minutes into the game, IWD was still level 2 while Meteos was level 4, almost 5. The level difference allowed Meteos to put on a ton of aggression which netted him a double kill on Altec and AtomicN in the middle lane; completely negating the 2v1 lane for Curse. Meteos then moved to the top lane and killed IWillDominate who was babysitting the lane for his top laner. When SwainGretzky came back to the lane, Hai and Meteos killed him with a well calculated tower dive as soon as he appeared, like a mugger waiting in a dark alley.
SneakyCastro and LemonNation destroyed the bottom tower at 4:10. The common theme of 2v1 lanes is that they allow both teams to push down a tower quickly and then switch up lanes. If a team fails to take a tower with a 2v1 lane and they lose a tower to the other 2v1 lane, they are very behind due to global gold and map control. When the bottom tower fell in this game, the Curse 2v1 lane had just died to a well-timed red buff

Nasus
gank from Meteos. The mid tower of Cloud 9 was barely scratched by Curse and the duo lane of Cloud 9 headed to the mid lane to face them.
In the image below, you can see that Cloud 9 barely survived the aggression but it allowed them to get 2.5k gold ahead at 4 minutes into the game and everyone had a level advantage on Curse.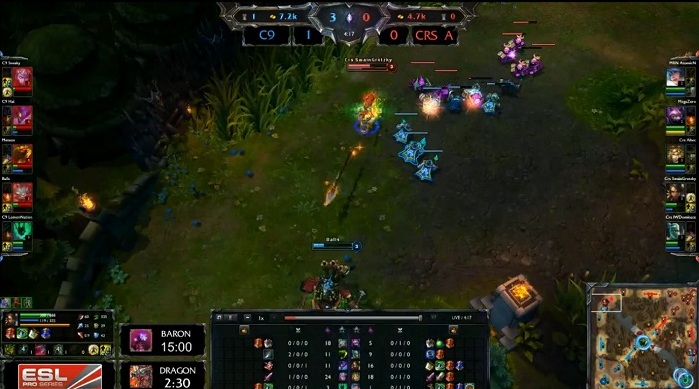 Low Risk Tower Diving
After taking down the tower in the bottom lane, SneakyCastro and LemonNation moved to the middle lane. Hai went to the top lane to battle Nidalee and they sent Balls down to the bottom lane to fight MegaZero. The aggression never ceased even with the lane swaps. Cloud 9 tower dove whomever was in the top lane over and over. They eventually took down the tower around 7 minutes into the game. At the same time, SneakyCastro and LemonNation were extremely aggressive versus Curse's duo lane; successfully towerdiving them a couple of times.
The game was over when Meteos and Hai followed and assassinated IWillDominate in his own jungle. AtomicN tried to help but ended up eating a

Death Sentence
from LemonNation and was bursted down in the matter of a second by Hai, Meteos, and SneakyCastro behind the middle tower. Curse decided to surrender there because they were already down too far to come back.
The Takeaways from This Game
Cloud 9 gained a nice advantage with the starting buffs. The key to the win was to never let off of the aggression because
they would either exponentially increase their advantage or merely put the game back in an even state
. Eventually it got to where the aggression was less of a risk which only continued to exponentially increased their advantage.
So push the advantage that you get in your games. Sitting back and resting on the advantage only gives the other team time to make a play to take control of the game themselves. The thing that impresses many people about Cloud 9 is that they gain advantages and never give them away unlike so many teams in North America.
I doubt we will see an 8 minute surrender in the LCS but I certainly expect Cloud 9 to gain these types of advantages often. Make sure to check them out when they start LCS play next week.
More eSports Headlines
Join eSports Central!
Do you enjoy watching and learning from the professional League of Legends teams? Do you enjoy writing? If yes, MOBAFire eSports Central is always looking for writers to help cover North American and European League of Legends Championship Series, Garena Premier League, Champions, and more competitions throughout the world.
Contact us today
to start your eSports journey.