Bard Build Guide by Bardjo
[11.23] Bardjo's sus builds for Top, Mid, ADC and Support
x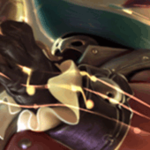 Did this guide help you? If so please give them a vote or leave a comment.
You can even win prizes by doing so!
I liked this Guide

I didn't like this Guide



Commenting is required to vote!

Thank You!
Your votes and comments encourage our guide authors to continue
creating helpful guides for the League of Legends community.
Choose Champion Build:
On-Hit Marksman

Crit Marksman

Burst Mage

AD Assassin

Tank

AD Bruiser

183AH Support

Perpetual Movement Speed
Runes:
On-Hit Marksman (10/10)
Precision
Lethal Tempo
Overheal
Legend: Alacrity
Coup de Grace
Domination
Cheap Shot
Ravenous Hunter
Bonus:
+10% Attack Speed
+9 Adaptive (5.4 AD or 9 AP)
+6 Armor

Spells:
Top
Flash
Teleport
Items
On-Hit Marksman
Ability Order
ultra aggressive lane
Threats & Synergies
Threats
Synergies
Extreme
Major
Even
Minor
Tiny
Show All
Extreme Threats
Ideal Synergies
Bard
Ideal champion for One for All. Call your friends and share my builds with them.
Synergies
Bard
Ideal champion for One for All. Call your friends and share my builds with them.
Champion Build Guide

Hello everyone, I'm Bardjo.
I started playing LoL in the second half of S6 and my peak has been D2 90LP in the middle of S11.
In real life I'm an Italian jazz trumpeter that loves anime, so it's not hard to understand why I OTP Bard with 1.5M of points.
I started getting interested in Bard a couple of months after my landing on Summoner's Rift and I immediately fell in love with him. I've climbed from S2 to D2 one tricking the Wandering Caretaker and I'm still ranking only with him. Playing Bard, you understand that he is extremely versatile and has a unique impact on the game. This guide was not created to help you improve your Bard but to have fun with him once you are confident with the champion. As you can see from the rune and item sections, I've rated all the builds of this guide to help you understand the level of troll of each one of them. I also put in the rune and build sections a standard set-up that is good in most cases, read notes to understand how to build properly in every situation.
Playing in lane with Bard is like playing

Kayle
: in most of the cases you just have to ignore the early game trading to wait for your items and your Meeps to come out.
In top lane you can abuse of range vs melee matchup, especially if you are playing with

Hail of Blades
,

Electrocute
and

Grasp of the Undying
but remember to not extend trades: make the most of your runes and back to farm safely. The same concept should be applied to mid lane but be aware of your positioning: in side lanes you have a lot of good walls to escape with

Magical Journey
if you are in danger, while mid lane walls are pretty useless for Bard. Bot lane is really variable, your goal remains farming up for the mid and late game but, with a good support, you'll be able to get kills in early game and start stomping even in the weakest part of the game for Bard (the laning phase). Support is obviously the main role for Bard, easier because you don't have to farm, harder because you don't earn much gold (worth for cheap builds, worthlessness for expensive builds); build a poke support item (AP or AD based on the kind of build you've chosen) and perma roam once you have boots to help your team get fed and to take objectives. The mid and late game playstyle is dependent on the current state of the game, the type of build you are doing and the kind of team you are playing with and facing; it's difficult to give advice on such a situational thing but remember to:
never stop farming and collecting chimes
avoid useless fights if you are building for late game
play around objectives if you are not getting hard stomped by the enemy team
If you are going mid or top lane, remember that, if you don't move from base in the first 35 seconds, the first group of chimes will automatically spawn bot lane and the third one will spawn in an uncomfortable position too.
After several tests in the jungle, I have understood that you lose too much resources in the first 10 minutes to make it worth it: you take too long clearing camps and some camps must be ignored for many clears, so after 10 minutes you'll inevitably be 2 levels below your opponent; he'll have more gold than you and you'll have to put yours on farming items like

Noonquiver
, if you are going for

Kraken Slayer
, or AS / AP stats, if you are going AP (I don't wanna talk about Tank and Bruiser Bard jungle XD). The only way for Bard jungle to work is by perma ganking, taking XP from kills and a couple of minions in lane but it's a coinflip: counter jungling you is easy, counter ganking you is easy and if you don't gank perfectly you won't kill the enemies and you'll fall behind. Even if you find a kill, you'll probably get assists because you prefer to gank early game champions and winning matchups that have more damage than you during the early game and although you got kills and got fed, you don't have the same impact of a laning Bard with the same score.
Essentials
Top Lane

My advice for top lane is to play with

Teleport
; you can use it to gank a lane, to back top after a gank, to split push safely if your team is going to fight an Epic Monster soon and to look for some unexpected side map plays.

Ignite
is good if you want to secure some kills in early game, if you are perma fighting and if you are laning against a champion with a lot of sustain like

Vladimir
or

Fiora
, but this way you lose map presence.
Mid Lane

In mid lane you are free to choose between

Ignite
and

Barrier
; unlike top lane you have good map presence thanks to your

Magical Journey
. Pick

Ignite
if you want to secure some kills in early game, if you are perma fighting and if you are laning against a champion with a lot of sustain like

Yasuo
or

Yone
. Pick

Barrier
if you are sure that your laner is going to pick

Ignite
and to play passively.
Bot Lane
Support
Start almost every game with a point on

Cosmic Binding
: it's the only ability you have to deal damage and set-up CC in early game; go for

Magical Journey
if you are going to invade with a good CC set-up. If you are in duo lane and you want to force level 2 trade, it's better for you to walk close to a wall, unlock

Magical Journey
and use it to reach the enemy duo from the side; this should also be applied if you are in a solo side lane with a jungler that is going to gank you early. In all other situations, go for

Caretaker's Shrine
and begin to place altars. If you are positioned in the middle of the lane, most of the times you can choose whether or not to be aggressive or passive and at level 3 you should have all of your abilities unlocked; if you are under their turret you need to have 2 points on your

Cosmic Binding
for extra damage and 1 on your

Magical Journey
that's going to be used to disengage; if that's not the case and you're forced under your turret you don't need

Magical Journey
and you should level up your

Cosmic Binding
and

Caretaker's Shrine
according to the situation. in these extreme situations you'll end up levelling up the last ability at level 4.
The first ability you have to max is always

Cosmic Binding
, while the second one is dependent on the kind of Bard you are playing: with support and AP Bard you have to max

Caretaker's Shrine
because the heal scales with AP; if you are not building AP, max

Magical Journey
like second ability. Obviously put points in

Tempered Fate
at level 6, 11 and 16.
My biggest thanks go to Pointless Nami for the help in English translation and in formatting this guide. I also want to thank SPITTING RANDOMS and Maartenx25 for the valuable tips and you for reading the guide. I hope you can have fun with these builds and make sure to send me your best clips. See you in the Rift!

[11.23] Bardjo's sus builds for Top, Mid, ADC and Support