Not Updated For Current Season
This guide has not yet been updated for the current season. Please keep this in mind while reading. You can see the most recently updated guides on the browse guides page
x
Twisted Fate Build Guide by Zapzus
x

Did this guide help you? If so please give them a vote or leave a comment.
You can even win prizes by doing so!
I liked this Guide

I didn't like this Guide



Commenting is required to vote!

Thank You!
Your votes and comments encourage our guide authors to continue
creating helpful guides for the League of Legends community.
How does it work? (for those who dont know much about ap TF)
At start you slain minions with Q and blue card in the same time use your Q to get enemyes helth lower so you can stun him with yellow card and get kill with q ! You will need spel vamp because you are squshi and your helth is low all the time in teamfights so with full build you will easy heal yourself too full helth with just one Q on 4 minions , also it would be nice from your jungler to give you bule buff so you can spam Q ... If you ask me why you need Sword of the devine , here is the reson : your E does good dmg coz your AP count in it and this item gives your single attack more magic dmg and when its combined with your E thats ALOT OF THE DMG ... I hope you will like this build pls rate it i will make some new builds and improve this one coz i dont know to yous mobafire so well as this is my first guide !


Conducted by the infamous Dr. Xavier Rath, Twisted Fate was told that the wager for such participation might be steep. He might change forever, or nothing might happen, or he might die horribly. Pain, however, was likely a part of the deal no matter the outcome. These were hardly the worst odds the gambler had faced; his hopes raised, Twisted Fate underwent the experiment, enduring what he must for a chance at his dream. Then, it ended - with seemingly no effect whatsoever. The gypsy rogue flew into a murderous rage, but, before he could strike down the team, he suddenly teleported himself miles away. With a sly grin, he realized his luck had won out yet again. He now brings his luck and rakish charm to the Institute of War, where he is the Champion of choice for many - especially the gambling kind. To this day, Twisted Fate has avoided his inevitable reunion with Dr. Rath. The Card Master knows, however, that a confrontation is coming.

While the future may be mysterious and unknown to most, Twisted Fate is certain that his future lies within the cards.

Q-Wild cards: TF fires 3 card dealing ap dmg !
W-Pick a card : you chose 1 of three cards (red, yellow, blue)
red-dealing extra dmg to target and around him
blue-dealing dmg and you gain mana when you use it
yellow- stun target
E-Stacked deck: every 4th attack TF deales extra dmg where AP counts in
R-Destiny: TF can see all the enemyes in the targeted area of the spell and he can teleport enywheres in that area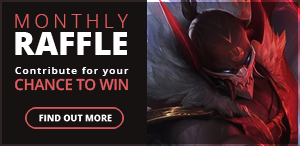 Zapzus
Twisted Fate Guide
TF solo/mid OP!