Vel'Koz Build Guide by El_Blanco_Jesus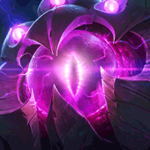 Ability Sequence

1
4
5
7
9

2
8
10
12
13

3
14
15
17
18

6
11
16

Masteries
18

Ferocity














12

Cunning















0

Resolve















Threats to Vel'Koz with this build
Threat






























Show all
Threat
Champion
Notes

1

Annie
You out range her very hard. She doesnt have any tools to deal with your poke. She is easy to kill. Watch out for tibers stun and you will do fine. This lane is heavily in your favor

1

Jinx
She has really low range and no dash move. The 2 basic requirements for getting rekt in league. You should be able to land w-e combo easily and consistently. She has strong burst damage though so she can kill you if you make a mistake.

1

Twitch
FREE KILLS. This guy is so squishy and immobile. He cannot deal with your poke or your burst damage. I usually get a lot of kills in this match up.