Orianna Build Guide by MugsPlays

Commend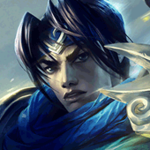 Ability Sequence

1
4
5
7
9

2
8
10
12
13

3
14
15
17
18

6
11
16

Masteries
12

Ferocity














18

Cunning















0

Resolve















Threats to Orianna with this build
Threat











Show all
Threat
Champion
Notes

2

Heimerdinger

2

Kennen

2

Twisted Fate
Introduction
I personally think Oriana has the ability to change games when it comes to the late game, it is very dependent of her use of shockwave.
She does however have many other strong abilities that can be used to do damage but at the end of the day I believe it is still down to her appliance of shock wave in team fights.
Building her as a late game champ will only give you more of an advantage when it comes to those fights.
I do however understand this leaves you slightly vunerable before the 25 minute mark in my opinion.
This is why your playstyle should vary as the game goes on, starting defensive and getting those extra picks that could help you.
By the time you reach 20 minutes into the game I think you can be very aggresive with this champ.
She has the ability to take out adc's before they see it coming and she can escape fights and traps not to mention the control she has over her lane with the ball.
I guess you could say it is highly dependant on the teams chosen, some champs could really challenge you in your lane and some could literally be a free lane.
Learn your counters and ban them, in the past I have noticed that maybe everyone elses counter is not your counter.
If there are certain champs you yourself can't play against if you get the chance ban them.