Ekko Build Guide by mkjaied2212

Commend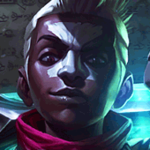 Ability Sequence

1
4
5
9
16

2
7
12
13
17

3
8
10
14

6
11
15

Farming
As a jungler you shouldn't much care about anything but kills and fast ganking for your team.
BUT..........
Never forget to farm as it is as important as kills or may be much more,Farm at any time available,When ganking,Ally recalled on his lane,pushing lanes or when you find much farm as a threat to your towers.
At the end,
Remember to leave farm to your allies because its more important to them that to you.