Twisted Fate Build Guide by Krumpiric

Cheat Sheet


On Hit TF
Twisted Fate Build
Ability Sequence

3
14
15
17
18

1
8
10
12
13

2
4
5
7
9

6
11
16

Masteries
18

Ferocity














12

Cunning















0

Resolve
















About me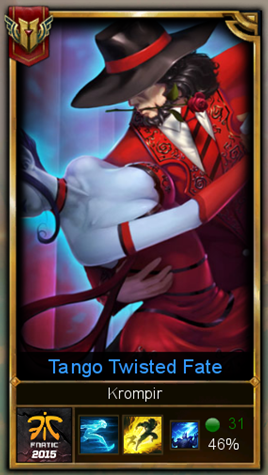 Hi, my name is Krompir. I'm a current Gold elo mid laner playing on the OCE server. I've been playing since season 2 but in season 5 i lost interest and didn't play a game. Now i'm back :) My motivation to get better at the game has never been higher. My favourie champions include Twisted fate, Annie, Evelynn, Nasus and the odd unconventional pick (Twisted Fate Sup/Jungle, Kassadin jungle and galio). I've decided to make some guides, mainly on TF, so i can share my knowledge to the community and learn more in the process.

Items
Runaans, Rageblade or Phantom Dancer?


Pick these if you want to be better dueling 1v1, for example when versing a Vayne.

Buy Runaan's if you want to maximise your dps damage in teamfights, also useful for clearing minion waves and camps (such as the new wraiths).