Bard Build Guide by CataclysmG

Commend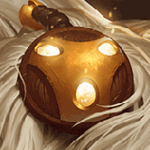 Ability Sequence

1
3
5
7
9

2
14
15
17
18

4
8
10
12
13

6
11
16

Masteries
12

Ferocity














18

Cunning















0

Resolve















Threats to Bard with this build
Threat































Show all
Threat
Champion
Notes

1

Aurelion Sol
You can literally just harass ASol for minutes straight since his damage is all telegraphed and his poke does nothing early on. You should be able to instakill him with two or three items if you gunblade.

1

Brand
You can sit behind your minions and outpoke Brand since his abilities rely on being close for the most part. He can't get close enough to E without losing the trade, wasting Q on poke hurts him heavily, and his W does almost no damage if he doesn't hit another spell first.

1

Karthus
Immobile, easy to dodge his Q. Just build mobility boots early and avoid his wall of pain and you should be able to outpoke him as long as he doesn't get into a range where his E hits you. That ability hurts more than you would think. Ult/heal low health allies when he tries to ult.