Sona Build Guide by astrolia
Not Updated For Current Season
This guide has not yet been updated for the current season. Please keep this in mind while reading. You can see the most recently updated guides on the browse guides page.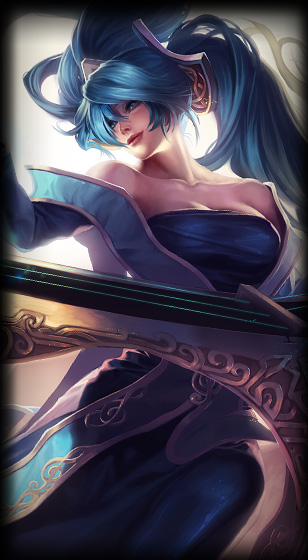 Recommended Runes
Ability Sequence
+ Notes

1
3
5
7
9

2
4
10
12
13

8
14
15
17
18

6
11
16

Not Updated For Current Season
The masteries shown here are not yet updated for the current season, the guide author needs to set up the new masteries. As such, they will be different than the masteries you see in-game.
Masteries

Notice
Cheat sheet has been updated. The explanations in the guide have not. The gameplay info is still fairly relevant.

Guide


Champions who are capable of being useful to their teams with their skill set and few items take up the role of the support. They let the carry get all the minions and offer their team vision. They are usually a little under leveled since they leave lane to place wards while their carry farms. In team fights, they contribute with aura items like Shurelya's Reverie and help protect their carry.

In this guide, I will discuss one support:

Sona. She's valued for her ability to do a little bit of everything. She has low cooldown poke, heal, and buffs. She has an AoE stun ultimate which is quite powerful and very useful for AoE team comps. However, she's a very fragile support with low armor/health and little mobility. To allow her to do her job, armor other and defensive stats help her immensely.

This guide is specifically about building and playing

Sona. If you think that

Tear of the Goddess is an effective item on

Sona and that

Clarity is a good summoner spell, this guide is not for you. The generic support info (warding spots, respawn timers, thoughts on Sightstone) has been split off into its own supplementary guide designed to compliment this guide and my other support guides. It became tedious to update multiple guides.


In this section, we discuss "building"

Sona
. What kind of summoner spells should I take for supporting? Why use certain runes? How do I do my masteries? What kind of items should I build? How do these things impact my team?
| | | |
| --- | --- | --- |
| | | Flash works on Sona as it does 90% of all other champions in the game. It gives her a gap closer and a way to go over terrain, plus she can setup plays with Flash Crescendo. Exhaust is strong in team fights to reduce damage from assassins. However, it can be Cleansed. Typically, weaker early game carries (e.g. Vayne) will take Cleanse. Heal is much better now that it heals everyone equally. It team fights, it's good versus AoE damage and you can even use it while crowd controlled. In lane, it's good versus burst damage, but weak versus strong carries who typically take Ignite or who have innate healing debuffs (e.g. Miss Fortune). No verdict on Clairvoyance yet. Its usefulness will depend on how the jungle plays out in season 3. |
| | | | |
| --- | --- | --- | --- |
| | | | For masteries, run 0/13/17. The utility tree grants basic bonuses like Meditation and Mastermind , but it also gives more support-centric bonuses like Greed , Pickpocket , Explorer , and Biscuiteer . Artificer can also be powerful on supports since they usually build a few active items. In defense, you get more base HP and defense stats. Having both Unyielding and Block is useful for harassing too, as it will reduce the amount of harass damage you take back when you trade damage with the enemy laners. Even if you take Exhaust, 13 defense is important because Sona has the lowest base HP at level 1. You could sacrifice Pickpocket , but if the enemy AD carry has Cleanse and they Cleanse your Exhaust, that point in Summoner's Wrath is useless. |
| | | | |
| --- | --- | --- | --- |
| | | | Now, if you are winning bot lane incredibly hard, having burst (being able to kill quickly) is fairly powerful during early game. You could alternatively buy this combination of magic pen items. Haunting Guise plus Sorcerer's Shoes make your Power Chord and Hymn of Valor burst even stronger and you still get tanky thanks to Haunting Guise's HP. |
| | | | |
| --- | --- | --- | --- |
| | | | After the core items, we start moving into picking 5th/6th items which are more situational or preferential. I specifically recommend Mikael's Crucible and Zeke's Herald. Versus crowd control, Mikael's Crucible is a very powerful item to have for the active, though it has a ridiculously long cooldown. Having maxed Artificer helps. Zeke's Herald's aura isn't very beneficial to a support, but the base stats are. I find it particularly effective on Sona because it'll double her Hymn of Valor AD aura (!). In this particular build, it also provides more cooldown reduction (since I recommend Aegis of the Legion over Locket of the Iron Solari). Additionally, if you are facing strong AP champions or you need additional tankiess, you can upgrade to Runic Bulwark. |
| | | | |
| --- | --- | --- | --- |
| | | | These are some other options for 5th/6th items, but some of them are kinda questionable. If your jungler is building Aegis of the Legion or the enemy team has no AP (e.g. bruiser top + bruiser mid), you can definitely build Locket of the Iron Solari instead. Twin Shadows is an all around useful item - lower price tag, good stats, can be used to scout or initiate, and it also guarantees that someone will get slowed, but it doesn't fill a particular niche like the others do. Now that Blade of the Ruined King is the "new meta", Morellonomicon will definitely be a useful item to have, but Sona can't apply it as easily as other supports. She has 2-3 sources of magic damage: Crescendo (likely get used on targets over 40% HP), Hymn of Valor (auto-targeted), and Power Chord (conditional, less range). Athene's Unholy Grail is another questionable item - lots of functionality (20% cdr + high mana regen), easy to get the passive since it's easy to get assists on Sona, but support unfriendly price tag/build path. |
| | | | |
| --- | --- | --- | --- |
| | | | An item I would also specifically like to mention as an item to stay away from is Tear of the Goddess. It's not supportive, it doesn't make you not die, and its upgrade path has very little impact on your team compared to other items. For 150 gold more, you could buy a Kindlegem instead. If you're really having mana issues, get Chalice of Harmony which turns into the supportive Mikael's Crucible. |
| | | | |
| --- | --- | --- | --- |
| | sight ward | | Lastly, consumables. Use Sight Wards in addition to your Ruby Sightstone when you need to heavily ward up an area such as Baron. Vision Wards are powerful early game versus stealth characters and to clear enemy wards, but buying too many Vision Wards can set you behind. Later, you can buy an Oracle's Elixir before going after objectives to clear out enemy vision. And when you know you're going to group up and try for an objective, there's always Elixir of Brilliance and Elixir of Fortitude to boost your stats. |

When do you build Aegis and when do you build Locket?

Why is Philo Stone core but Kages Pick optional? Its also a GP10

Why do you recommend Shadows or Morellonomicon but not WotA or Shard?

What about Ohmwrecker or Banner of Command?
| | | | |
| --- | --- | --- | --- |
| | | | Power Chord is Sona's passive. After casting 3 basic spells (QWE), her next autoattack will do additional magic damage. Unlike Diana's Moonsilver Blade which also scales based on her AP, Sona's Power Chord's magic damage scales linearly based on Sona's level. Having levels and magic penetration is the only way to increase Power Chord's damage. Sona's autoattack will also have an additional effect based on what her last used spell was. Once Power Chord is charged, Sona won't autoattack nearby minions or champions, so she can purposely save the Power Chord charge to use a specific effect. |
| | | | | |
| --- | --- | --- | --- | --- |
| | | | | Staccato's double damage is very good for harassing enemy laners since at lower levels, bottom lane AD carries and supports have 30-45 magic resistance and 500-600 health. The double damage effect also works on towers. The damage falls off late game as HP pools get higher and enemy champions start building magic resistance. |
| | | | | |
| --- | --- | --- | --- | --- |
| | | | | Good if Sona can autoattack someone who does damage. Early game and in lane phase, it's incredibly easy to use this on an enemy jungler or enemy carry. Late game and during team fights, Sona is more of a backliner and will likely use it on assassin-type characters who dive into her team. |
| | | | | |
| --- | --- | --- | --- | --- |
| | | | | The 40% slow effect is useful all game to slow enemy champions. Potentially, it can help setup kills. It's also her only crowd control pre-6. Sona shouldn't use it when she's running from someone unless she's with others since attacking will slow her down. |
| | | | |
| --- | --- | --- | --- |
| | | | Sona and Udyr both have an additional passive stance mechanic. In Sona's case, this affects her basic, non-ultimate skills. After using Hymn of Valor, Aria of Perseverance, or Song of Celerity, Sona sets off a 0.5 second global cooldown which prevents her from using her other two skills. Depending on what skill she used, Sona will emit an aura which buffs her and her nearby allies. The aura will last until one second after she uses a new skill. During that one second window, her previous aura and her new aura will stack,. The aura buff will take effect immediately after casting a spell, so, for example, Hymn of Valor will always take the AP from the aura into account. |
| | | | |
| --- | --- | --- | --- |
| | | | Early game, this can be useful as both an aura to buff Sona's lane partner and as an attack to harass people with. Versus weaker laners, it's beneficial to max Hymn of Valor first, as it will help Sona and her carry harass better thanks to the damage and the aura buff. Hymn of Valor has 2 ranges. A "max range" of 700, and a "champion priority range" of 550. It will hit the closest thing within 700 range, but it will only prioritize enemy champions standing among minions if they're within 550 range. When you hover over the skill icon on the HUD, it will show you the 550 champion priority range. 550 range also happens to be Sona's autoattack range, so keep in mind that being in autoattack range also means that Hymn of Valor will target champions. |
| | | | |
| --- | --- | --- | --- |
| | | | A minor heal which heals both you and your nearest most wounded ally while providing a short defensive buff that's twice the strength of Aria of Perseverance's passive aura. The double resistances is a bit counter intuitive since you would want to use a heal after someone gets hit rather than before they get hit. Since Aria of Perseverance heals both you and your nearest ally, you would be wasting mana if you use it to heal only yourself. Health Potions or Crystalline Flask help you conserve mana. It's nice to have versus aggressive laners. The downside to maxing Aria of Perseverance first is the higher mana cost - it's preferred that Sona use Aria of Perseverance twice to stack Power Chord, then use Hymn of Valor and autoattack for the Power Chord double damage effect. |
| | | | |
| --- | --- | --- | --- |
| | | | Movespeed is incredibly useful for running back to lane, chasing, escaping, kiting, and just giving more mobility to your team. This skill synergizes with champions that have strong initiation and champions with gap closers or chasing ability making it a powerful skill to have during team fights. Combine with Shurelya's Reverie for even more speed. At max level, Song of Celerity effectively upgrades Sona's team from movespeed 2 to movespeed 3, but it's more of a max 2nd or 3rd skill. Due to the auras and other effects of Hymn of Valor and Aria of Perseverance, it's likely that Sona will use them more than Song of Celerity during team fights. |
| | | | |
| --- | --- | --- | --- |
| | | | Nice ult for team fights. It synergizes well with other AoE ultimates. Since Sona isn't the tankiest person in the world, it's best utilized as a secondary initiation after the main initiator does their thing. Early and mid game, Sona can afford to casually use this on one guy (like when your jungler comes to gank bot lane), but late game Sona should really save it for team fights, or use it for tactical retreats when her team doesn't want to be pursued. |
Take Hymn of Valor at level 1 for the burst damage. It's useful for level 1 fights and harassing right when you get into lane. You can force people to chug potions before they hit level 2.

Your first skill priority is to level Crescendo at 6/11/16 for the reduced cooldown. Your second priority is to max Hymn of Valor for harassing in lane.

If you are getting owned or heavily harassed (or your AD carry sucks), you can max Aria of Perseverance instead. Even if you max Aria of Perseverance first, I recommend getting Hymn of Valor to level 2 early on because getting it to level 2 will double the damage.

After, max the skill you didn't max first. A single point of Song of Celerity is good enough for the Power Chord effect. It can be maxed 2nd for additional movespeed if you are running some high mobility comp, but I advise against ever maxing it 1st.
In this section, we discuss "playing"

Sona
. What do your skills do? What do you do in lane? How do you contribute in team fights? Since this is a

Sona
guide, this section specifically talks about

Sona
. For more about general support gameplay, check out the
supplementary guide.
During the early game lane phase,

Sona
's job is to poke enemy laners while her carry farms. Versus more aggressive laners, she can play defensively and heal. There are certain carries she does well with, others she does not so well with. Even though you might lack particular synergy with your carry, you might have synergy elsewhere on your team with other members, especially with other forms of AoE. For more about general support gameplay, check out the
supplementary guide.
(Level 1 Power Chord)
Some advise charging

Power Chord
on the fountain by casting
Hymn of Valor
3 times. If you have to leash for your jungler, just cast
Hymn of Valor
twice so you don't waste the

Power Chord
proc on jungle mobs.
(Synergy)
Because of the magic burst on

Power Chord
,

Sona
has strong lane synergy with other carries who have high poke/burst damage early game. Together, they can create potential kills. In example,
Corki
's

Phosphorus Bomb
or

Miss Fortune
's

Double Up
do high damage early game. But you don't have to lane with some high damage carry. You can help a

Kog'Maw
farm up and get stronger for late game too.
(Strengths)

Sona
is easily capable of being aggressive or passive. However, because of her strong burst at level one with
Hymn of Valor
and

Power Chord
's double damage, she excels at harassing early (pre-level 2) and taking an early advantage. With her burst damage, she can zone out weaker enemies and control bushes. But when things don't go so well and she's forced into more passive situations, she can support any carry by healing them while occasionally poking.
(Weaknesses)
While

Sona
has high damage early, she lacks defenses. She has low base armor, low base health, and is fairly slow. It's very easy to blow her up in lane. "Kill" supports like

Blitzcrank
can

Rocket Grab
her and create instant kills for his carry. Additionally,

Sona
lacks good peel and crowd control outside of her

Crescendo
. At level one,
Leona
can be easily abused and poked because she won't have her full combo. But at level two and beyond,

Sona
can't peel
Leona
off her carry when she goes all in with her skills.
(Ganks)
Sometimes, you will be able to tell you're getting ganked based on how the enemies act.

Taric
randomly

Flash
ing and stunning your carry is usually pretty telling that a gank is going down. Once you get

Crescendo
, stopping ganks is simple. If you and your carry are full health, you can save it until enemies chase you back to your tower so you can try to stun them under tower. Before you get

Crescendo
, it's a bit harder to deal with ganks. You can slow with your

Power Chord
+

Song of Celerity
slow, and there's also

Exhaust
or

Heal
to protect your carry. If you've built items already,
Shard of True Ice
helps peel, or

Mikael's Crucible
can remove a stun or slow and allow your carry to escape.
(Match Ups)
This is some basic match up info. There are too many factors (jungler, level 1 fights, getting to level 2 first, top/mid ganks) to definitively say "you counter [x]" or "[y] counters you". Match ups are sorted
based on threat level
and
what they can do to you
. "Threat level" does not mean "do not pick

Sona
versus this enemy support". You might be trying to run a certain team comp, or you might have a better late game anyway. Rather, it indicates how reckless or how conservative you can be when facing a certain champion. As usual, if you know a certain skill is on cooldown, that's usually a greenlight to go in and harass even versus a threatening laner.
Low
Threat

These supports pose little threat to you, though they can inconvenience you with their silence/knockup/shield/etc.
Unknown
Threat

The performance of these supports is carry-dependent. Their skill-sets focus on enhancing and preserving their carry.
Med-High
Threat

These supports are also ranged, meaning they're squishy and can be poked down. However, they have strong crowd control pre-6 and can easily get Sona killed.
Danger
Zone

You can poke them down, but they're all tanky and can get you killed when their cooldowns are up. Bush control helps.
Counter
Mechanics

These AD carries and supports have skills that can actually counter some of your skills. E.g. Varus can reduce healing.
High
Damage

These AD carries hit hard early game. You might want to max W first unless they have a heal debuff too.
Gap
Closers

Running from these AD carries when you're low on HP is hard. They all have gap closers.
Sona is good at harassing enemy laners with
Hymn of Valor
and

Power Chord
. As explained in the skills section,
Hymn of Valor
will seek out enemy champions when they're standing around minions up to 550 range, which is Sona's autoattack range.
A typical harass skill combo is:
Have 2 stacks of Power Chord ready
Autoattack an enemy champion
Use Hymn of Valor to fully charge Power Chord and damage the champion
Your autoattack animation timer will reset when Power Chord is fully charged
Autoattack the champion again to trigger Power Chord's double damage effect
If you're using

Greater Mark of Magic Penetration
and enemies aren't using

Greater Glyph of Magic Resist
, they'll have a large chunk of health taken off.
During engagements with the enemy carry and support, it's important to use your skills intelligently. In example,

Aria of Perseverance
's

Power Chord
effect will reduce enemy damage by 20%. Use it on the enemy carry instead of the support. Don't stack

Exhaust
and

Crescendo
on the enemy carry at the same time. They won't be moving during

Crescendo
's duration anyway. Similarly, if the enemy carry has

Cleanse
, wait for them to

Cleanse

Crescendo
or

Exhaust
before using the other.
Part of harassing and picking fights is being able to read what's going on, and knowing your enemies. Say for example you are playing

Sona
and you're laning with

Kog'Maw
versus

Caitlyn
and
Zyra
.

Caitlyn
and
Zyra
have a significant range advantage over you and

Kog'Maw
. If you walk up to autoattack,
Zyra
can easily root you with Grasping Roots because of how fast the animation is compared to your own autoattack animation. And if

Caitlyn
reacts in time, you could very well die because of her long autoattack range.
When the enemy carry and/or support use their summoners, take mental note of this, and tell your jungler too. When your jungler ganks, remember who's

Flash
is down and focus on that person. Also remember that if an AD carry

Cleanse
s your

Crescendo
, your

Crescendo
will be up long before their

Cleanse
. Make another engagement happen before their

Cleanse
comes back up. And lastly, during engagements, always remember to help your carry damage the enemy. Don't just sit there and do nothing or run away.
This is a 6min long video that I made to accompany the text guide. It primarily shows off some laning with Sona but it also talks briefly about team comps, items, runes, and masteries. Even though it's now outdated due to season 3, a lot of the things it talks about can still be applied and generalized for most supports.
(Team Synergy)

Sona
's

Crescendo
is very powerful and gamechanging. As an AoE stun, it compliments other forms of AoE damage like

Rumble
's

The Equalizer
or

Miss Fortune
's

Bullet Time
. It also compliments other forms of AoE crowd control like

Curse of the Sad Mummy
. Additionally, having people stunned can help any of your team mates who have channeled abilities.
(Initiation)
If you're a little tanky and you have a good opening, you can

Crescendo
on enemies to start team fights. If you haven't built very tanky, stay by your carry to help them in case someone jumps on them, and try using

Crescendo
as a follow up initiation or ranged initiation.
Using her ult as secondary initiation is especially important when trying to chain crowd control effects. In example, if your team has

Galio
, it would be redundant for both you and

Galio
to ult the enemy team at the same time. Because her ult is also a stun, it can be used as a counter-initiation to cancel and interrupt spells like

Katarina
's

Death Lotus
if she jumps in and starts spinning.
If your carry gets caught out by a form of initiation, remember to use

Mikael's Crucible
to cleanse and heal them. If you have to
Shard of True Ice
, you can also use that to help peel off attackers so that your carry can gain some distance and hopefully re-position themselves.
(Fighting)
Due to her auras and low cooldowns, you don't just use your ult then become useless.

Sona
can help do a little damage with
Hymn of Valor
and provide the aura for her team. She can use

Aria of Perseverance
to help sustain and for the defensive aura. Remember to use your active items too. If your carry is stunned and they don't have

Cleanse
or
Mercurial Scimitar
, you can use

Mikael's Crucible
to remove stuns and heal them. After the main bulk of the action, she can help her team chase with

Song of Celerity
, the

Power Chord
slow effect,

Twin Shadows
if you opted for it, and
Shurelya's Reverie
.
That concludes the guide. Thanks to my friends and guinea pigs for their assistance in taking screenshots and such. If you haven't, be sure to check out the
supplementary guide
which touches on subjects like objective respawns, general gameplay and warding. Or if you'd like to check out my other guides, I also have guides for
Nami
,
Lulu
,
Zyra
, and
Miss Fortune
.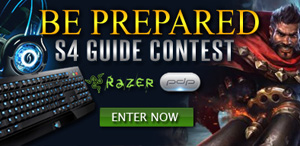 Scheduled Tournaments
Drop-in Games