Nami Build Guide by eunamiku

[13.22] EUNAMIKU'S RANK 1 NAMI IN-DEPTH GUIDE
x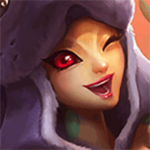 Did this guide help you? If so please give them a vote or leave a comment.
You can even win prizes by doing so!
I liked this Guide

I didn't like this Guide



Commenting is required to vote!

Thank You!
Your votes and comments encourage our guide authors to continue
creating helpful guides for the League of Legends community.
Recommended Items
Runes:
i take this EVERY GAME
Sorcery
Summon Aery
Manaflow Band
Celerity
Scorch
Inspiration
Biscuit Delivery
Cosmic Insight
Bonus:
+9 Adaptive (5.4 AD or 9 AP)
+9 Adaptive (5.4 AD or 9 AP)
+6 Armor

Spells:
most of the time
Flash
Ignite
Items
LP GAINS ONLY!!!!
Ability Order
Surging Tides
(PASSIVE)
Nami Passive Ability
Threats & Synergies
Threats
Synergies
Extreme
Major
Even
Minor
Tiny
Show All
Extreme Threats
Ideal Synergies
Leona
THE ONLY THREAT THESE ENGAGE TANKS HAVE IS ROAMING TOP LEVEL 2 AND YOUR TEAM BLAMES YOU FOR BEING AFK AT 4 MINUTES, THUS SHATTERING THEIR FRAGILE MENTALS
Ziggs
MY FAVORITE CHAMP TO LANE WITH (twitch.tv/roselol)
Synergies
Ziggs
MY FAVORITE CHAMP TO LANE WITH (twitch.tv/roselol)
Champion Build Guide
gmorning!!! my name is euna and i have over 3 million mastery points on nami across all my accounts :D
i have 3 master tier accounts and was rank 1 nami in the world for a while!!
♡♡♡
⠀⠀

♡♡♡
⠀⠀
nami is my comfort champion. she's pretty simple to understand, so a lot of the skill comes from what you can do
outside
of using her abilities!!
i'll be telling you some of the stuff i've learned over the many years of playing her, and hopefully you'll learn something new xx
i stream almost daily here:
twitch.tv/eunamiku
(i'd be happy to give more tips on nami/support, and also am down for coaching as well!!)
♡♡♡
⠀⠀
well.. you should only play her if you want...


BUT there are a lot of cool things about her!!

first of all, she's a fish. you can make all kinds of water and bait jokes with your friends XD!!!

secondly, since her abilities are so basic, you can focus more on the macro play of the game as the support and truly help your team to the highest potential possible (warding, back timers, setting up waves/freezes, objectives, etc).

Note: ADC Nami Does Not Work.
"if you look good, you feel good. if you feel good, you play g̶o̶o̶d̶ well." -me
♡♡♡
⠀⠀⠀⠀

⠀⠀
♡♡♡
⠀⠀
jokes aside, some of her skins (B tier downwards, exception of her classic) feels heavy/clunky to play, like instead of using water, nami is using cooking oil
SPELLTHIEF'S VS. RELIC SHIELD
spellthief's is the standard enchanter support item! you poke with abilities and autoattacks to gain stacks, and at 500 gold stacks, it turns into a warding item.

be careful when using this that you know the proper time to walk up and poke because they'll be expecting you to do that and they will engage or poke back.
⠀⠀
| | | | |
| --- | --- | --- | --- |
| | | | this item is good if you don't want to feel pressured to constantly walk up and take unfavorable trades against a possible heavy poke lane like Ashe and Brand or Leona/ Alistar where they can just engage on you if you walk up. |
IMPERIAL MANDATE VS. MOONSTONE RENEWER
| | |
| --- | --- |
| | MOONSTONE RENEWER IS GOOD IN GENERAL |
| | |
| --- | --- |
| | IMPERIAL MANDATE IS GOOD WHEN YOU HAVE ASSASSINS BECAUSE IT GIVES EXTRA BURST DAMAGE AND BOOST OF MOVEMENT SPEED |
| | |
| --- | --- |
| | SHURELYA'S IS GOOD WHEN YOU NEED TO HELP ENGAGE (HECARIM, TWISTED FATE) |
to decide which one you need, ask yourself these questions:
1.
is my team a late game scaling comp? (ezreal/ornn/yasuo/etc.)
2.
do i have 2-3 melee bruisers on my team? (irelia, udyr, camille, etc.)
if you said yes one or more times, then
buy moonstone renewer!
update: moonstone is deadge, buy helios instead.
♡♡♡
⠀⠀
right before making the mythic purchase:
i also like to take into consideration the state of the game.
if i think we will
win through picks
(elise/nidalee/taliyah), then i'll just go
imperial mandate
. that item is very fun <|:D
the reasons for the items
Ionian Boots of Lucidity


the ability haste is just so good. (i don't like Mobility Boots because once a minion tickles you, it's all over)
⠀⠀
Staff of Flowing Water


this item synergizes so well with nami!! with summonaery (rune), your E can potentially shield an aly, which will grant both of you two movement speed and extra ap! not to mention, nami already has a passive movement speed buff when her abilities are used >:D everything about this item is good on nami
⠀⠀
Chemtech Putrifier


buy this if they have healing. ( Seraphine, Yuumi, Yone, Vladimir, ANY GOREDRINKER CHAMPION haha smile, etc.)
⠀⠀
Mikael's Blessing


this item is for when the enemy team has a very burst-heavy mage ( LeBlanc, Taliyah, etc) or they are very heavy on cc ( Sejuani, Ashe, Twisted Fate, etc.)
⠀⠀
Redemption


redemption is a generally good item, buy when there's no single glaringly obvious issue in the game that needs to be dealt with
⠀⠀
Ardent Censer


PERSONALLY i do not like this item and don't build it. BUT if you somehow wind up having 3 or 4 other autoattack champions on the same team and they're ahead, go crazy and buy this item!!
⠀⠀
Stirring Wardstone


once you're level 13, you can purchase this item. the ability haste is really nice along with the extra ward slot (extra placement once you've placed 20 stealth wards), but i always buy this item last. once i've finished every other item, that's when i upgrade because i think other items that i listed above still provide so much more than just ability haste and an extra ward.
⠀⠀
Surging Tides


♥ passive is small movespeed granted on abilities that touch u or an allied champion
♡ Can be used to grant movespeed to u and ur allies
♥ very good
⠀⠀
Aqua Prison


♡ q is bubble (defined as a suspension: stun/airborne)
♥ my bubble land rate is about 4 out of every 10
♡ land it, good chance they r heavily poked or dead
♥ Usually better to use as disengage rather than engage

⠀⠀
Ebb and Flow


♥ w is BREAD N BUTTER!!! THE BEST PART OF HER KIT YUM YUM
♡ it's ok to use indicators to get used to the range
♥ smart cast or smart cast + indicators is best tho
♡ the water will bounce twice (heal>damage>heal or damage>heal>damage) if in range
♥ always look for what is best to use (healing allies is prio or if not, better for poke)

⠀⠀
Tidecaller's Blessing


♡ e is target spell that will empower the targeted user's next 3 abilities/auto attacks
♥ buff application to abilities is HUGE
♡ can apply to u or allies
♥ paired w/ passive move speed is disgusting, good for trading

⠀⠀
Tidal Wave


♥ BIG WAVE!!! woosh~~
♡ knocks ppl up
♥ i still use indicator just for this ability haha

TIPS AND TRICKS
✦

Aqua Prison
gives movespeed too because of nami's passive

Surging Tides
! when walking back to lane or in general when u know ur not gonna use q during its cd, can give slight movement speed to lane if u land on both u and laner
✦
ultimate

Tidal Wave
gives DOUBLE movespeed!! even if u dont land it, if it lands on ur teammate then they can either catch up to enemy to secure kill or help them run away faster
✦
one of nami's combos is q>r or r>q.
using Q followed up by R is better because the suspension for the Q ability is 1.5 seconds which will give enough time for the R to cast+travel to the enemy without giving them a chance to flash, but Q is harder to land which makes this combo more difficult.
R followed up by Q is okay as well but it's less reliable as the knock-up for the ult is only .5 seconds, and the cast time for q to land gives the enemy a small window to flash away.
✦
stealing objectives with q or r is difficult to time but NOT IMPOSSIBLE!!! good to try always, especially since after objectives are taken, ur most likely not team fighting (empower your ult/q with your E so that you deal a little more damage)
✦
the more u play nami, the more u will learn her cast times and get used to it.
when running away, e is best ability because of its very low cast time, w is only safe to use if they don't have a gap closer the same distance as w range (because the cast time will slow u down and get u killed like panth stun). same goes with your bubble.
✦
E can be casted on ally as their ability is traveling and it will apply as the ability hits (

Ezreal
q/r,

Varus
q/r,

Jhin
q/w/r,

Syndra
q/w/e/r, etc.)
⠀⠀
🤣what to do when ur ADC is a bot👍👍
as soon as u hit 6, GANK MID AND HELP JG!!!!!

bot lane is no longer ur priority; try to help other laners, bring ur (hopefully not) losing mid/jg down to bot for free kills >:D
How to Find the Win Condition
»
look for who is fed on ur team and run w it
»
FUNNEL FUNNEL FUNNEL
»
PEEL PEEL PEEL
»
some games r unwinnable.
»
more often than not, u r a losing lane/weakside bot unless ur adc is strong early (draven, lucian, tristana)
»
this means if ur 2 other solo laners are also losing lanes, ur game is most likely doomed
»
Sorry.
♡♡♡
⠀⠀
if you made it all the way down here, thank you for taking the time to read my guide ;w; i really enjoyed sitting down and writing what i know to that it may help you in your journey to learning nami!!
playing nami so much has not dulled my interest in her in the slightest; everyday, I feel like there's still something more i can learn or something i can do better, and I strive to always be improving.
comment if you have any questions!!
feel free to drop by my stream if you wanna see some live gameplay or have any specifics you want answered right away <3
twitch.tv/eunamiku
⠀⠀
♡♡♡
⠀⠀