Shyvana Hard Carry /W Commentary, Part 4, GRAND FINALE

Report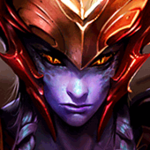 Submitted By:
Split King
Message
Profile
Submit a Video
Back to All Videos
Shyvana Hard Carry /W Commentary, Part 4, GRAND FINALE
They may take our lives, but they will NEVER take our FREEEEDOOOM!
It is time to end it once and for all, come join me as we go on the offense!
New Comment
You need to log in before commenting.