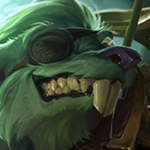 Awards Showcase


Show more awards
Biography
Hi,
I'm an mid-lane main with the in-game name of FalleN3. My current rank in Season 7 is Platinum.
I am from Ireland and love playing League! When I was first introduced to LoL by friends many years ago, I wanted to play the biggest pain in the A** champion at the time.... - Annie was one of them.
I stream Monday - Thursday [18:00 - 21:00] (Irish Time) GMT+1
I try to have a very laid back and chilled stream.