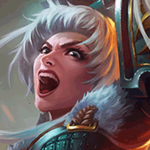 Biography
Hello, what's up you guys? I am Argus and let's dig into some info about my life.
I am a 18 year old gamer and part-time Youtuber from Norway, near Oslo. Been playing League of Legends for a few years now.
Currently I'm spending a lot of time and effort on my Youtube Channel, so if you were to subscribe to it I would really appreciate it, or at least take a quick look and see if you like what I'm posting. I'm a person that's always striving to be better at the things I do, so if you have any suggestions on how I can improve my channel I'd be very happy to know. See you around in the Fields of Justice.