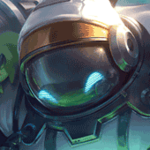 Summoner Info
CyberSpeakeasy (Unverified)
EUW
Biography
Hello!
My name is
Smile
and I'm a
Bronze II
Support Main
on EUW. I don't play ranked because I hate this game, but I love it
just
enough to keep playing normals with my friends.
I'm trying to learn to be a better player so I've decided to make this account and share my experiences as a support main. Feel free to correct me and help me learn along the way, and one day I hope to teach you as well.