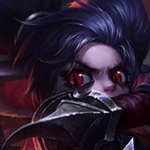 Awards Showcase



Show more awards
My Commendations

Last Commend On:
Jul 10th, 2017
Biography
My name is DoomDD, some fool call me The Terminator because the thing i did in the past and because they don't know what else to call me yet.
I'm from Vietnam and i'm love Russian and Soviet and my "English" is still in the construction
I joined The League of Legends from Season 2 and sill continue domination the fools and challenge random players in the ranking match everyday. But in order to do this, i need to learn and that's why i end up here.
Everytime i won a match, i always make friend with the players i think is the best for me and that's why my friendlist is almost full and fill up with random players i played from the past but good thing that i can remember some of them by write a note about them.
Because there is nothing more Powerful than "Team work" and Magical than the "Friendship".