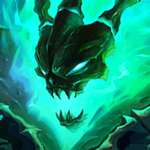 Awards Showcase


Show more awards
Biography
Hi, I'm John.
I'm a currently gold support main.
My friends like to call me the "CC King"
I've primarly played support for all my league life.
And the only constant thing that's never changed is maining high CC supports.
Naturally, playing a "highly spell dependant" role, boosts your midlaners abilities, so I'm also a good midlaner.
Just don't make me jungle... please... that's a disaster...