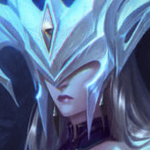 Awards Showcase






Show more awards
Biography
My name on here is League gamer. I hate it, but I'm too lazy to make a new account so we are just gonna roll with it. I just started making guides as of 2019, so yeah. Lets hope they are cool and helpful and stuff.
Alright, so a little bit about me I guess since this is suppose to be a biography. I'm a senior in High School. I do Drama Club. I hate science. Living in New England. Been playing League since Season 4. I like milk.
"After climbing a great hill, one only finds that there are many more hills to climb."
- Nelson Mandela