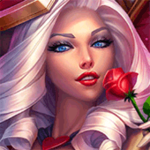 Biography
Hello to anyone that is reading this! I have been playing LoL for about 1 1/2 years. My name is Dan H. Truong but I go by "Mimic Me" on League. You can find me on the NA server. I am currently Platinum 5 (3/8/14).
My Profile
Mid>Marksman>Support>Jungle>Top
About Myself~
I am currently a freshman in West Hills High School. I was born on August 21, 1999. The only time I will most likely be active is on Friday,Saturday,and Sunday. Majority of the days I have homework; I also do track after school until 5:00 p.m. (Pacific Standard Time).