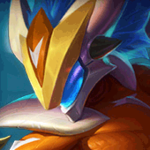 Awards Showcase



















Show more awards
Summoner Info
Platinum
I
Marksman, Assassin
Biography
I am a kindred main and jungler and have played over 2500 games with Kindred, and achieved 2 mil mastery points. I started maining Kindred since release and played her since today.
I tried many different build and concluded that my guide is the perfect way to go.
Thank you for visiting my profile, get in touch if you have any questions regarding jungling and Kindred.