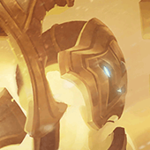 Awards Showcase









Show more awards
Biography
Hi there,
My name is Penita13, or Atra Silentium in-game. I'm a fairly experienced player who lurks around Gold and Platinum on the EUW-servers. A lack of time and energy due to school-work is holding me in these ranks, as I have a high mmr and win high-elo games quite reguarly. I started playing when Vi was released and have, ever since, been a fan of the mid and support role. I like to have an impact on the game, whilst not having to rely on my decision making alone to turn a game
My favourite champions are Xerath, Blitzcrank and Thresh. I'm very comfortable with them and know a lot about them as well. Especially Xerath lies close to my heart. I've made my own guide on him, so if you're interested, click
here
.
I have a lot of knowledge of the game and have invested a lot of time in watching my own replays and watching others as well. I benefit a lot from it, bu because I feel like others can benefit from it as well, I've set up a completely free coaching service. If you're interested, click
here
I also like fooling around with photoshop. In fact, I've made all the guidework in my guide by myself.
If you have any questions, feel free to ask me. I'm on regularly.
Good luck and I hope to see you on the rift someday...
- Penita13