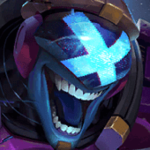 Awards Showcase











Show more awards
Biography
Hi,I'm RedFire2055 from the EUW server, I have played from the end of Season 4 and I created this account in Season 5.
I started to play Brand because I always choose the element Fire character in videogames. The first game I did with him, I did a double kill so I decided to play him even more, consequently he became my Main.
At the end of Season 6 I was an Otp or "one trick pony" Brand in Plat 3.
In Season 7 I hit Diamond 4 for the first time and later on I deranked for negligence back to Plat 3.
In Season 8 I hit Diamond 4 again so then I decided to create this guide to give other people some tips about Brand.
In S9 i ended Diamond 2 and i can say i became stronger , i will try reach Master/GranMaster/Challenger in S10.
Atm I'm one of the best Brand players in the world.