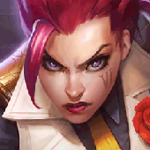 Awards Showcase


Show more awards
Biography
Hello im Alex and i play league of legends about one year and a half now.
Im not a pro nor a noob i just play serious and love gaming.I started guides cuz i was searching for guides on moba too when i first started and i believe that i can help newbies etc.
Thats all my summoner name is Drunken z0mbie , i play EU east and i own my city's group Fourth Seal.
My main role is ADC and i have master Ezreal , kog and ashe .
I play also mid, support, solotop and jungle .
Thnks for the support Vote my guides and cya around