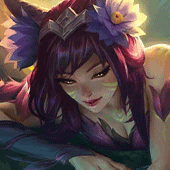 Awards Showcase









Show more awards
Biography
I enjoy playing a variety of off-meta champions and making guides about them!
My favorite champions in general are Kog'Maw, Ahri, Varus, Morgana, Lux, and Amumu.
My favorite off meta picks are AD Ahri Top, Morgana Jungle and Mid, Mage Bot Lanes, and Varus Support.
I appreciate any and all feedback on my guides and will always be willing to try out suggestions in games to see if they work!