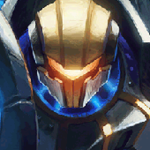 Biography
I'm just a relatively new LoL player looking for tips, while trying to help those trying to learn the basics.
My favourites are Kayn, because he can either beat the stuffing out of either the tanks and warriors, or the marksmen and the supports.
Miss Fortune because of her high damage and high movement speed. Also it doesn't take much attack speed and damage to make her a beast in the battle.
And also Jayce because of his playstyle(whittle-down and dive in) and his potent combos.
In battle I try to be as friendly as possible and make people happy and laugh.
If anyone could tell me how to jungle it would be greatly appreciated, because I don't know: How to do it, Which champs to pick and the jobs of a jungler, but I would like to know to try it out and try to outsmart the other jungler.