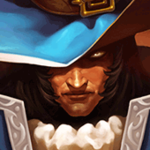 Biography
Favourite Quotes:
-
You can't milk those!
-
Beaten by a little girl... ha!
-
How do you like the curves? I was talking about the bow...
-
I feel your fear!
-
I don't need a badge to do my job! Well, yes, I technically have a badge, but I don't... why am I explaining this?
-
Evil fears only fire! And Yordles, because... what even are they?!
-
Anger gives motivation without purpose
-
A true master is an eternal student
-
I have sworn to vanquish all kinds of bad stuff, starting with your face!