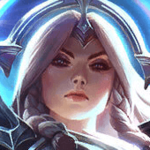 Awards Showcase








Show more awards
Biography
---
I used to play Co-op vs AI for kicks, and often helped the new players I encountered. All these players needed help with the same things, which made me realize that existing learning tools just weren't cutting it. To fill this need, I wrote the
best damn new player guide
I could, over a process of several months.
My guide has been remarkably well received. It is featured on the MOBAFire home page, Summoner School and League of Legends subreddits. It has been praised by
players
and
Rioters
alike.
---
I started gaming in 2012, and playing League in April 2013. I was clueless and terrible, and improved to above average, which is a big deal to me. I learned some valuable things along the way: problem-solving, strategic thinking, dedication, focus, self-criticism, managing frustration, accepting failure, and adopting a win-or-learn attitude. I don't always exemplify these things, but I am always trying. I hope to help others find these things, and my guide and
stream
are a part of that.
I enjoy many other games, including D&D, osu!, the Bioshock franchise, Portal, Mirror's Edge, Bastion, Transistor, The Last of Us, and CoD Zombies.
The origins of my name.