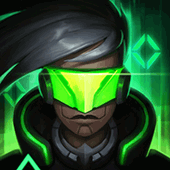 Awards Showcase








Show more awards
Biography
A fellow gamer that was introduced to League of Legends during Season 5. I still remember the Rek Sai login animation. I first started playing

Volibear
, as he was my first main. I then made my way around many champions until i came across Olaf. I loved Olaf and he was pretty OP at the time. I played him for a couple month's straight and then came across
MobaFire.com
. I decided to try writing my own guide, as I was just about to reach 100K mastery points. I was looking forward to feedback, along with tips and possible builds I hadn't thought of. After that guide being a hit and becoming #1 for

Olaf
, I thought that I should revamp the guide and move on to another champion in hopes of writing another guide. This came true and I wrote a Pantheon guide following and then an

Evelynn
guide (which is also #1).
I love writing guides as it allows me to further understand the champion I play, while receiving great tips from fellow players that play the same champion. I have written 3 guides which have over 5 million views combined (which is mind-blowing to me). I am currently taking a break with guide writing as I try to master a new champ (which is currently

Akali
).
I started off playing Call of Duty Modern Warfare 2, which really led me into gaming. I then moved to PC games and that is where I think I will be staying. I love the community and everything that it offers. I had my own graphic and web design business for a while and thought that I would bring that to my guides and other websites, so that it why all my guides have custom banners and such.
After 2 years of writing guides, I finally was recognized by a group of people for all my hard work. I was recently recruited to a team to make guides for an upcoming website (
academy.gg
). There I plan on working to post guides and share my knowledge with the world. Following that, I was then contacted to become a sponsor for 2 League of Legends guide/boosting groups. Currently I am on my way to creating a Twitch stream and hopefully moving towards my own website or getting Prime here at
MobaFire.com
Thanks,
Whobick/MuLTiKaiSeR