x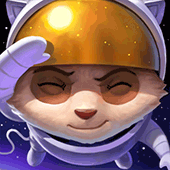 Did this guide help you? If so please give them a vote or leave a comment.
You can even win prizes by doing so!
I liked this Guide

I didn't like this Guide



Commenting is required to vote!

Thank You!
Your votes and comments encourage our guide authors to continue
creating helpful guides for the League of Legends community.
Teamfight Tactics Guide
This Team Comp has helped me to have a safe winning % among low levels, at least up to Platinum.
Early Game:
Early game is simple, you may want to start with any 2 Warden and 2 Ranger, rushing level 4 among first PVP battle. Start Stacking money with no character rotation at all, just buying what you need to get your battleground characters to level 2 or to the characters that you actually need for mid and late game.
Mid Game:
By mid game you may want to get more selective on the units, trying to build the sinergies (you can use substitues to achieve sinergies such as diana for inferno or any other warden untill you find your ideal units) that we are going to be looking for and the items for the carries. Always try to get above 50GOld to start rotating characters. Most gold value 1 and 2 character will get high rank by having good early rotations on level 5 and 6. if you are having struggle with HP, rush level 6
Late Game:
Late game is all about rotating and keeping that economy flowing. If you get the 7 needed units, but you don't have the final objective sinergy, rush level 7 to get the sinergy since it's strong and will give you advantage even if you still have a level 1.
If you have the sinergies ready, keep on rotating on level 6 to get those gold value 2 and 3 to third level adn rush only if you start loosing to much HP.
By level 7 you can either gather money to go to level 8 looking for an extra summoner to finish that sinergy (Probably, Annie to keep that inferno combo going on. By this time you should have Varus, Zyra and Kindred)to give a good use to the extra HP and duration of the sinergy.
On the other hand, you can spend on rotating to level up characters.
TIPs:
1.the new Shadow sinergy went from 2 to 3 champions to apply the combo(+70% dmg) thats why we added Senna to the final comp.
2.Summoners went from 40% duration and HP to 30%
3.Rangers went from 30% prob of extra attack speed to 35%.
4.Inferno sinergy went from 80% aditional dmg to 70%, but, the sinergy is not only triggered by spells, now it's also triggered by critical hits (keep this in mind while building Varus and Kindred)
Final Comp should look like this + Senna (items are ideals only, other options are also accepted). I will update picture as soon as they update the champions here in moba.