Not Updated For Current Season
This guide has not yet been updated for the current season. Please keep this in mind while reading. You can see the most recently updated guides on the browse guides page
x
Rakan Build Guide by flamingblits

Rakan: Rush to the top in season 8!
x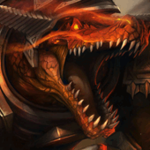 Did this guide help you? If so please give them a vote or leave a comment.
You can even win prizes by doing so!
I liked this Guide

I didn't like this Guide



Commenting is required to vote!

Thank You!
Your votes and comments encourage our guide authors to continue
creating helpful guides for the League of Legends community.

Always try to build spell thief's edge first as it gives the most powerful enchantment for Rakan with the 50% movement speed burst when damaging enemies after you have gained the required 650 gold from this item. The utility from the AP has great scaling with Rakan's abilities through the shielding and healing he has in his kit.
P - Has a 90% AP ratio
Q - Gleaming quill: has a 70% AP ratio on the heal.
E - Battle Dance: Has a 80% AP ratio for a total of 160% of AP over both casts
with the defensive stats from this item on a whole rotation it equates to a minimum of 32HP + 7 per ally hit with q. which adds up insanely fast with heal and shield power from runes. which is undoubtedly stronger initial stats than taking ancient coin.

That brings us to the Ancient coin, why take this item if the stats from spell thief's are so good. the reason is simple you want to be able to rush items much faster as the gold income is much easier to acquire, I suggest this only if you are learning to play Rakan and want to get used to his kit.
it takes about 43 seconds for spell thief's to recover as much mana as a single mana coin from this item and you get about 1.5 mana coins per wave. so every 20 seconds this means that you get about double the mana bonus from this item if it's something you lack from on your play.

Lastly your choice on potion is largely dependent on your skill and the other support item you choose. As the primary support item from many Rakan players following this build will be spell thief's you should take refillable potion as it is much more gold efficient and helps with the slight lack of gold you get from taking this item at the sacrifice of a large chunk of hp which is naturally accounted for with the base tackiness of this build.

Your standard potions are your go to item to survive lane at the cost of the single use you get from them and the slightly less gold efficiency, it will work well for starting out Rakan players who like to take coin for the sustain synergy.