League of Legends (LoL) Question:

Does jinx really need a nerf?

Posted in Champions | Tags: Jinx

4,301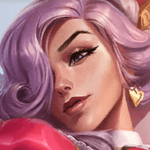 Does jinx really need a nerf?
As a jinx main i don't think jinx is too OP she's a very fair champion, weak and bad early game but she gets stronger eventually and becomes deadly late game.
She's easy and fun to play and that's why she sits at 54.05% winrate.
Jinx can easily get countered by multiple ADC champions like Kog'Maw, Tristana, Caitlyn and Draven even MF especially early game and this is why i don't even classify her as an S tier or S+ tier as many claim, for me Jinx sits at A tier.
You can dodge her W if you know how to play against her and with the help of your support jinx can be an easy target to put down and win your lane.
I personally don't understand why is everyone complaining and asking for a nerf ! I would like to hear some of your opinions and complaints so i can understand better why a lot of players want Jinx to get nerfed.
Answers (2)