League of Legends Hand of Baron
What is Hand of Baron?
Hand of Baron is a buff obtained from killing

Baron Nashor

.

This buff grants:

Grants 24 - 48 (based on game time) bonus attack damage and 40 - 80 (based on game time) ability power.
Reduces recall channel by 4 seconds.
A successful recall heals 50% a champion's maximum health / mana
A successful recall grants +50% movement speed for 8 seconds

Hand of Baron grants an aura that empowers nearby allied minions:

All Minions:

Now match 90% of average movement speed of nearby champions, up to a limit of 500 movement speed
Are resistant to slowing effects
Non-super minions have 75% damage reduction versus area of effect, damage over time, and persistent effects

Melee Minions:

Gain +50% movement speed when within 800 units of enemy minions or turrets
Size is increased
+75 attack range
75% damage reduction versus champions and minions
30% damage reduction versus turrets (similar to cannon minions)

Ranged Minions:

+20 attack damage
+50% missile speed
+100 attack range
50% reduced damage from champions

Cannon Minions:

+600 Attack Range
+50 Attack Damage, but Attack Speed is halved
Attacks are now Area of Effect (200 range) and deal +100% bonus damage to turrets
Increased size

Super Minions:

+25% Attack Speed.
Gain +50% Movement Speed when within 800 units of enemy minion or Turret.

This buff lasts for 3 minutes 30 seconds, and

Runic Affinity

does not affect its duration.

Unlike most other monster buffs, this buff is not transferrable: the buff is lost when a champion carrying it is killed.

It can be identified by spiky purple runes circling the champ that has it.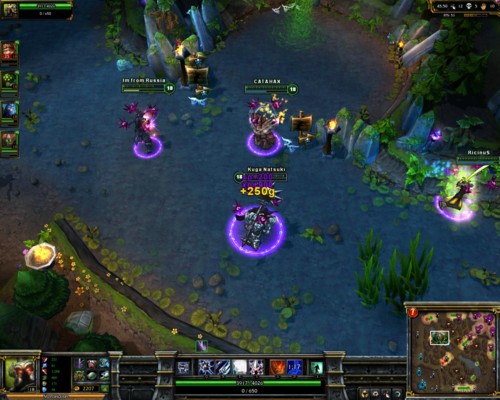 New Comment
You need to log in before commenting.