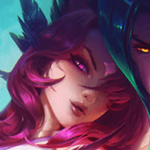 Awards Showcase


Record_UserAchievement Object ( [record:protected] => Array ( [user_achievement_id] => 242868 [user_id] => 998512 [achievement_id] => 198 [relation_type] => Build [relation_id] => 615750 [display_order] => 0 [is_hidden] => 0 [create_ts] => 2022-09-06 06:59:46 ) [getcache:protected] => [cache:protected] => Array ( ) ) 1







Show more awards
Biography
So... I might be a bit inactive because I haven't been playing a lot of league but I try to keep my stuff updated. Overall the game feels less fun, my friends haven't played it and I also got real life stuff demanding my attention. I do still enjoy playing Wild Rift though.
---
I have been playing league since the end of season nine. I started maining Kindred in the jungle, but in season ten I moved on to the bot lane and have stayed there ever since. The first champion I picked up was Xayah - I love her to death even to this day. She is still my main and my highest mastery champion.
Season eleven I tried many other marksman, such as Samira, Kai'sa, Jinx, Miss Fortune, Ashe, Tristana, Aphelios and Vayne. Kai'sa is my second main champion and flex pick.
I sometimes play support. I like enchanters like Yuumi, Seraphine, Soraka, Lulu, Nami, and my engage pick is Leona.
Jungle is my off role when I tire of bot lane and I play Lillia, Kindred, Bel'veth.
I like playing mages but I don't have the patience to learn a new lane just for them. One of my favorite ARAM picks is Vel'kos.
I suck at top lane.
I don't play a lot of ranked games. I prefer to play normal and ARAM with my friends, clash too, but even though I sometimes queue up for rannked I don't really feel well when I play LoL for a long time let alone under the stress and pressure of ranked. I've tried, but I can barely bring myself to play 50 ranked games, it is just not healthy for me and I always give up even when it's going well.