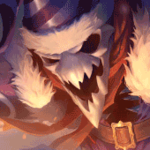 Awards Showcase



Record_UserAchievement Object ( [record:protected] => Array ( [user_achievement_id] => 185686 [user_id] => 791890 [achievement_id] => 167 [relation_type] => ForumThread [relation_id] => 44756 [display_order] => 0 [is_hidden] => 0 [create_ts] => 2020-11-02 13:31:10 [threadLink] => /league-of-legends/forum/news/mobafire-special-halloween-giveaway-44756 ) [getcache:protected] => [cache:protected] => Array ( ) ) 1




















Show more awards
Biography
Hi guys, KajiOkami here.
I know it says Kaji***ihoAkukei here, but the site doesn't really support name changes! :D
But to keep it simple let's start over with somthing easier...
Hi guys, Kaji here!
So here's a little more about me. I am an accountant by day and a League of Legends enthusiast by night, or by day if I am not working! ;)
I started writing guides because I really like it and I want to help other players the way all the other guide writers helped me when I first started playing league!
Apart from League, I am also into fantasy, reading and I love listening to music. :)
If you like my guides, feel free to follow me on Twitch, Twitter or Youtube.
The links can be found in all my guides!