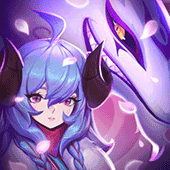 Awards Showcase


Show more awards
Biography
Hey,
This account got a full revamp recently (or less recently)
I'm Sq and I upload in-depth-guides on off-meta builds. Some of these are gonna be linked to some kind of video on my YouTube-Channel. WARNING: As of writing this, I am currently Silver IV, so take everything I say with a grain of salt. That said, I do put a lot of thought into my guides/ideas, so I would really apprechiate if you gave it a shot. I boldy actually consider some of these to be viable, but not necessarily meta.
Ok anyways this is me. Wether you read/are gonna read my guides or not, have a nice day,
me c:
(I have not yet actually uploaded any guides, because they are still work in progress and I don't again wanna make this account the stupid-idea-landfill it used to be.)
Me-trivia: I'm officially a support-main, however since I mostly fill when playing with my friends, which I do a lot, I probably have a really high ADC-playrate. My favorite champion is Bard, with that champion also defining my general playstyle (also known as missing 5 waves to throw a STB towards botlane or in short: Overroaming) My top-5-masteries are Gnar, Ashe, Fizz, Bard, Pyke in that order, but that's not a particularly accurate depiction of my champion mastery, since I'm probably 10 times worse with Fizz than with Pyke. My top-10 masteries include 2 champions for each role respectively. I mostly play champs nobody likes and that can just f*** around and get away with stuff they shouldn't. I play this game way too much. I am ranked S4, but I gain about 20 and lose about 5 LP per game, so I guess riot disagrees. I think I'm simping for Spirit Blossom Kindred. I upload off-meta guides, because they're incredibly fun to play around with, but also, because nobody can tell me that I'm playing the pick wrong, since I'm the only one playing it.