Build Guide by UnrealPie12
Not Updated For Current Season
This guide has not yet been updated for the current season. Please keep this in mind while reading. You can see the most recently updated guides on the browse guides page.

x

Did this guide help you? If so please give them a vote or leave a comment.
You can even win prizes by doing so!
I liked this Guide

I didn't like this Guide



Commenting is required to vote!

Thank You!
Your votes and comments encourage our guide authors to continue
creating helpful guides for the League of Legends community.
Ability Sequence

2
4
8
10
13

1
3
5
9
12

7
14
15
17
18

6
11
16

Not Updated For Current Season
The masteries shown here are not yet updated for the current season, the guide author needs to set up the new masteries. As such, they will be different than the masteries you see in-game.
Masteries
Chapter 1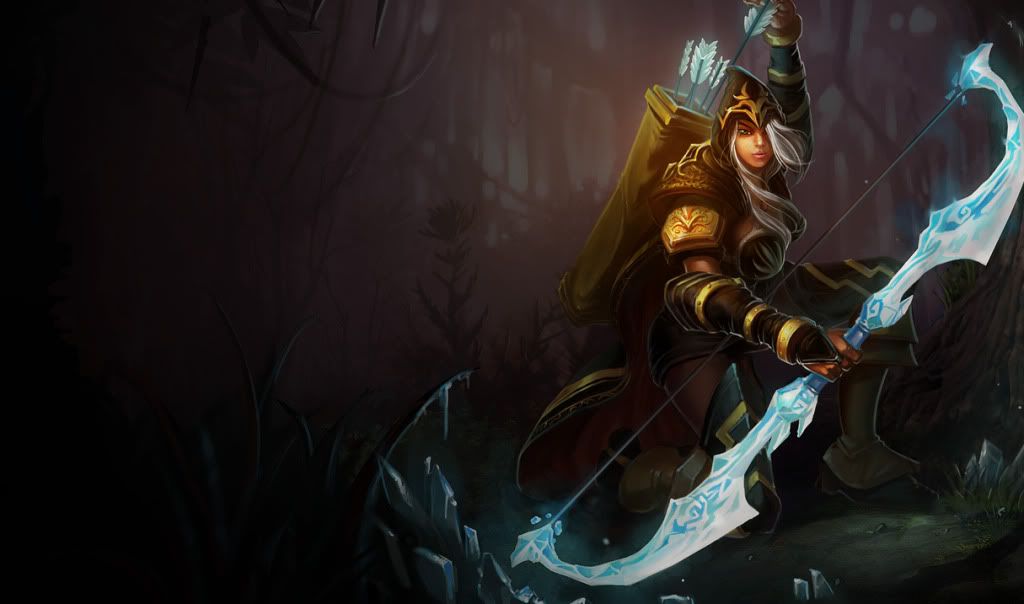 ---
EDIT NOTICE

EDIT 1: Added more to the build description
EDIT 2: Added a short Ashe Bio
EDIT 3: Last whisper is now the last item in the build
EDIT 4: 1st Avarice blade was removed, its not needed
EDIT 5: I Cleaned up the build description making it easier to read.
EDIT 6: 2nd Avarice blade was removed, its also not needed, and The Black Cleaver was added
EDIT 7: Totally Re-constructed Item build description.

---
Build still Under Construction
Troll:
OMG NOOB YOU HAVE CLARITY!!!
UnrealPie:
yes, I love to harass like crazy keeping the other champ as far away from exp range as possible.
Troll:
Well your still a noob
UnrealPie:
Yup :p
---

Ashe
is an awesome support charicter as well as a great carry. Try to take center lane in every game, if your getting pushed back to your tower ask someone to gank there mid, When doing this its important to have full mana, your Q and W. Having your Ult is also almost a must if the other champ helping kill center has no stuns.
One of the perennial favorites of summoners in the League of Legends is the Freljordian beauty known as Ashe. She is a direct descendant of Avarosa - one of three legendary sisters who each claimed dominion over the scattered tribes dwelling in the icy tundra of northern Valoran. Ashe mirrors her ancestor's unparalleled mastery of the bow, earning her the title of ''the Frost Archer'' the way Avarosa did during her era. Ashe is a literal Princess amongst her people, though she prefers to be addressed by outsiders as her tribal title rather than any form of royal moniker. There are those in Freljord, however, that would prefer to address Ashe as the ''late'' Frost Archer; the other two tribes that are descendants from the Three Sisters are historically sworn enemies of Ashe and her people. Having survived more than one assassination attempt in her life, Ashe is always aware of her surroundings regardless of where she is.
---
Okay guys, we all know the basic Ashe build. Let me break down my version of Ashe and let you know why I think this build is great for a 5v5.
First off lets start with the build~
Try to take center lane when playing, you can get this build up fast if you play smart.
ITEM BUILD DESCRIPTION IS BEING REDONE SORRY FOR ANY INCONVENIENCE YOU MAN HAVE
Okay guys, in Chap select screen make it clear your going to take mid. You can use what ever Chap skills you want; I take Clarity because I like to keep the pressure on them with
Volley
Start the game buy grabbing a
Doran's Blade
and
1 Healing Potion
. Buy fast and get to mid.
You should be able to stay mid until you have about 1500 gold. Let your team know your going back, if there is a jungle ask him to take your lane till you get back.
Now you have a choice what to buy. I would buy boots first, You can get what ever you want but I would get
Berserker's Greaves
or
Boots of Swiftness
.
Take
Berserker's Greaves
if you want faster attack speed or
Boots of Swiftness
if your going to hard pressure.
After you buy your boots, hurry back mid to relieve the other champ then continue to hard pressure as often as possible.
---
Lets look at the Pros and Cons of the build.
Pros:
Damage Heavy -
Ashe will hit hard DESTROYING Squishys and sending Tanks running to there Nexus.
Good Attack Speed -
With the combo of Attack damage, Crits, armor Pen, and attack speed, no one will stand a chance.
Great for destroying buildings -
her fast attack speed and damage output is great for destroying that pesky tower while your team harasses the hell outta the other team's champians.
Can Solo Dragon -
Ashe will be able to Destroy the dragon so keep an eye on Dragon at all times. This will allow you and your team to get there build going strong.
IS YOUR BEST FRIEND! -
You will have your Enchanted Crystal Arrow every 40 seconds or so so keep your Mana strong. Use Clarity if needed because Enchanted Crystal Arrow can turn any team fight in your favor.
Cons:
Ashe is EXTREMELY Squishy -
Be careful of that wandering Tryd, He is likely to make you melt in just around 5 hits.
Ashe will be Focused in a team fight -
Because you melt the other teams Carry, they will focus you EVERY team fight.
Ashe cannot solo late game -
Because she is targeted first, if you are seen taking out a group of Minions a little too far out of your teams reach, you will die.
---
So no, you may not get 100 kills in a game.. but the point is fear factor. You hit fast and hard, if played right you can carry your team.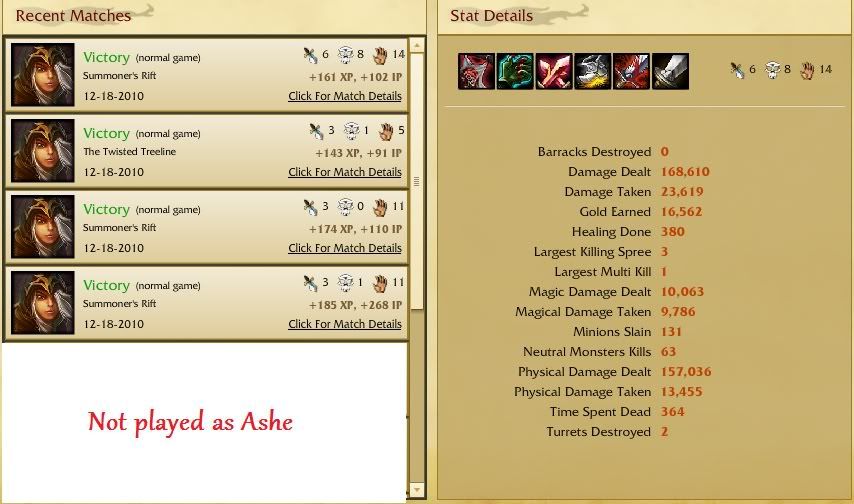 Here is a game that I just played that ended up being in my favor.
as you can see, just under 40 minutes into the game I have my build pretty much finished. I would of bought the Infinity Edge and then the Frozen Mallet to finish it off.