Not Updated For Current Season
This guide has not yet been updated for the current season. Please keep this in mind while reading. You can see the most recently updated guides on the browse guides page
x

Battle Templar Taric (the build that inspired korea?)
x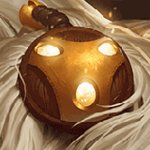 Did this guide help you? If so please give them a vote or leave a comment.
You can even win prizes by doing so!
I liked this Guide

I didn't like this Guide



Commenting is required to vote!

Thank You!
Your votes and comments encourage our guide authors to continue
creating helpful guides for the League of Legends community.
Champion Build Guide
I'm not going to make multiple chapters instead I'm going to leave just this 1.

Taric has a great amount of versatility and fits within almost every team comp, he may not always be "the best" option in a comp but for sure he won't ever be the worse.
This build / premise is to help create more of a Aggressive Build for Taric, helping his (already strong) versatility by placing more of a emphasis on early game big trades helping to snowball our ADC's a little easier.
We still build items relatively the same as most taric builds but the 2nd item is almost always going to be Zeke's because it's just great on taric overall adding a great steroid to our ADC / Carries whenever we ulti, we also take Pressence of Mind for that CD reduction when we get some kills as well as mana back.

The Goal is to Initiate / Peel same as always but be able to put out ever more Pressure when we Turn since we are using Press The Attack on our Keystone that is just yet ANOTHER massive dmg steroid that we will be providing to our Mates.

Now Taric already does a **** ton for a Team, he heals / shields, can initiate / peel can do dmg and oh yeah has a game changing Ulti as we all know! Now if you play Taric as much as I do then you know how game changing Zekes + Ardent can be but the problem here is that Ardent isn't GREAT until a little later, Zekes is only GREAT when your ulti is going, so they both have cons, Ardent doesnt give MR/ Armor so it doesn't do anything to help you really initiate other than dmg which in it's own way can help you survive if your team mates aren't cowards but we are Support! We aren't just some cocky ADC's Handcuff! And I Main Taric! I am almost always the Crown Jewel for my team because that's what Taric does!
Now we are putting out even more ways to pump our teammates up! Not just with utility in healing but with even more ways to do DMG! Yes it's conditional of us getting in the Fray but I mean that's what we do as Taric players, we are almost always in the thick of it!

Now you could ask "When could I run this build?" Well anytime you feel like maybe your teammates may need that extra dmg buff or maybe you just want to ensure that your team wins even if it means you may die, I'd say taking this build over the Standard (and boring) Guardian / Resolve tree is a good option.
There is a big flaw with Guardian, for one it has a heafty CD and it can proc when you don't want it to and honestly it doesn't have that Control that you need to really really abuse it, it's useful for sure but on a Champ like Braum I feel like Guardian is busted, on Taric it's just mildly meh tbh BUT Press the Attack is something that not many Supports can proc and Taric can! Something else that adds to his Versatility / Strength that most other Supports can't use at all!
Make no mistake, Press the Attack is a pretty powerful keystone and especially since many ADCs can't afford to take it because they want that HP sustain from Fleet of Footwork that means there is a pretty big gap in the overall dmg capability of a adc before they even step foot on the rift.

Remember when Ardent was OP / Broken?! And how crazy that buff was? Well Press The Attack on it's on isn't that but when you slap it on Taric with a Frozen Heart + Zekes + Ardent (Oh and Pressence of Mind!) Well now you are stepping into Territory that puts Taric above all others because he will have a mildly good / better Early game compared to normal Guardian Built but his team fights will be even stronger then it was before because now it's more dmg into any target he puts Press onto so that means everything dies easier than before!

Enjoy! I've also changed some minor things for min/max build is imo a lot stronger now with slightly less focus on early survival but moved a little bit more into mid game.