Vladimir Build Guide by delivererofdeath
Not Updated For Current Season
This guide has not yet been updated for the current season. Please keep this in mind while reading. You can see the most recently updated guides on the browse guides page.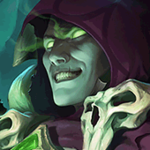 x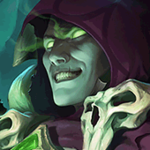 Did this guide help you? If so please give them a vote or leave a comment.
You can even win prizes by doing so!
I liked this Guide

I didn't like this Guide



Commenting is required to vote!

Thank You!
Your votes and comments encourage our guide authors to continue
creating helpful guides for the League of Legends community.
Ability Sequence

1
3
5
7
9

4
12
14
17
18

2
8
10
13
15

6
11
16

Not Updated For Current Season
The masteries shown here are not yet updated for the current season, the guide author needs to set up the new masteries. As such, they will be different than the masteries you see in-game.
Masteries
Threats to Vladimir with this build
Threat







Show all
Threat
Champion
Notes

7

Garen
Hold E down when he silences you, and it automatically slows him

Why the build?
"Delivererofdeath you noob, don't you know that you can only play Vlad as a tank now?"

Well, the answer to that is the fact that as Vlad your best way to deal the most damage in a fight is to stay alive longer in that fight. Yes, yes, I know you're thinking that I'm contradicting myself here, but let me explain. Vlad is a very healing focused champion. His heals scale off AP for the most part, and one heal that scales off missing hp- with an AP scaling determining the percent. If you want the most heals per second, and certainly the most heals relative to your max health, you want to go AP. However, since the rework Vlad is pretty squishy going full AP, and his heals aren't really THAT good anymore. You want some defenses so that you can actually survive to get your heals off. So between AP and HP which one do you pick?

Trick question- you pick CDR. This whole build is focused around getting you that nice tasty CDR, which is why you don't actually get any damage until lategame. I have found the build to be the perfect blend of damage and tank- you're hard to kill and you hit hard. In short you're a mosquito. You go around the battlefield sucking their blood, and making sure that they can't hit you. At the right time you drop your ult and give them all malaria. You are a walking fortress. You are the juggernaut of mages. You put Swain to shame. All you need is 30 minutes to ramp up.

Well How do I play him?
Just having the build won't actually do you any good. You have to KNOW how to play Vlad. You have to know the mechanics involved, and you have to know what your role is during early, mid, and late game. I have played Vlad since season 3, and since then I've had thousands of vlad games, both ranked and unranked. Since I got in to him, he hasn't had a large buff or nerf, until 6.9. This changed him significantly. Both his skill floor and skill cap have been raised significantly: If you know what you're doing Vlad's stronger than ever, but if you don't know what you're doing he's worse than ever. As I add more content to this guide, I'll release videos to explain the more in depth things, but for now I'll tell you the basics.

Early Game- You're going to be laning most of this time. I think top lane is better for Vlad in his reworked form- the reason being that he heals significantly more when he's low health, and for most top laners it will be hard for them to finish you off. If you're confident in your dodging skills or feel like it's a good matchup feel free to take him mid.

Basically you always want to be getting your Q off on whatever you can. You want your empowered Q to be available as often as feasible, because that's where your lane power comes in. Vlad is a powerful psychological weapon; they see how much damage your Q nukes them for and they become afraid of you, when realistically you only get 2 seconds of power every 20 seconds. In lane everything revolves around how well you use those 2 seconds. Ideally you want to go in before your Q is up. This creates powerful zoning pressure if your enemy isn't stupid, and powerful harass pressure if your opponent is stupid and lets you hit them. Keep your E up if you're going in to poke them, and if they go in blast that baby on them. Make sure to hold it down to full charge to get the slow on them, or else they'll stick and kill you. Now what's happened is you're probably at around 30% hp while they're at around %50 or %60, so you'd think you lost the trade. Wrong. Wait until your Q is up and heal up, waiting for that extra empowered Q to give you a massive heal. If they press the attack, you still have pool.


To be continued. Sorry, I gotta go to work.