Carry ur **** adc bard
x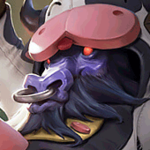 Did this guide help you? If so please give them a vote or leave a comment.
You can even win prizes by doing so!
I liked this Guide

I didn't like this Guide



Commenting is required to vote!

Thank You!
Your votes and comments encourage our guide authors to continue
creating helpful guides for the League of Legends community.
Runes:
Ap cum shot
Domination
Hail of Blades
Cheap Shot
Eyeball Collection
Relentless Hunter
Sorcery
Gathering Storm
Celerity
Bonus:
+10% Attack Speed
+9 Adaptive (5.4 AD or 9 AP)
+6 Armor

Spells:
ass blasting spells
Flash
Ignite
Items
Tank
AP CCUM SHOT
Ability Order
Ap Dick balls
Threats & Synergies
Threats
Synergies
Extreme
Major
Even
Minor
Tiny
Show All
Extreme Threats
Ideal Synergies
Yuumi
Her E heals and she pokes u to death and then ur team flames u
Volibear
LEt the fuckers engage and then engage
Synergies
Volibear
LEt the fuckers engage and then engage
Champion Build Guide
KS and **** the team you are the best and only the best ur team sucks everyone succks ur super good and u ****ing kick kids assess. Also steal farm from ur adc as much as possible. You scale harder than any adc ever. Please just throw ur *** in with ur e and absolutely slay the kids super hard and smack thier butt cheeks. Generally speaking the whole thing about this ****ing champ is to play agressive as living hell and go balls deep in ur *******
Tank why u must of asked. Well why tf not if you want to just tank some hits and still get one shotted by a adc champion here you go. Most of the time tank isn't build with bard but he is a versatile champion that utilizes a lot of skill. So don't use that skill and just go all in. Ur lvl 1 is great so tank a lot of minion hits to show dominance and spam q to slow and smack them. Eat their *** so hard that they squeal to death about how much of a problem u are. If you build Ap you would be perfectly fine but if you dont and want to throw just use tank. If you do get kills then ur adcs that u are facing or massively throwing or such dog **** that its unbelievably expected of every person that plays leauge of legends.
Just follow these simple rules to get u slayed and laid with ur cool leauge of legends skills
1. If ur adc is trash help someone else
2. If ur team is trash just sit in lane or run it down mid orrrr get chimes pick ur posion
3. If u want to carry ur adc well too bad they suck. They will drag ur *** down to hell if wanted.
4. If u are sad and angry just int
5. play aggressive as much as u can tanking minion hits is funny and can get the other team fed.
6. If u see a jungler ganking u just e away but make sure ur adc doesnt follow you
7. If ur jungler is ganking u just leave and disengage or if they are fed and good just engage and ks
8. Do I need to breast feed my adc, No u dont ****ing dumbass like I said before ur adc is dumb and stupid they should just kill themselves bc they are so bad just ks **** them they cant do **** anyways
9. We have a problem with a tank or another champion on the opposing team, Well FF or int harder to him **** it its already over and u suck big **** anyways u dumb ***
10. Why support then, Well to troll ur bot lane dumbass u prob suck as bard and dont know **** about him, but u play him because u think hes cool. Well u will never be good at the game and give up or join a leauge of legends c9 online camp
11. What should be my cs at the end of the game, Well as bard u need to split push alot just let ur team 4v5 and while u are fed out the *** with that cs just play like a *****
12. Check ur gold difference between each characters iteams. Please get a item lead against ur enemy so u can flex on them
13. Give up, when u are winning start inting. Simple as that u want to throw ur games for the other team so u can be in iron elo.
14. But I want to climb, If u want to climb then dont pick support dumbass. Pick top and turn ur brain ****ing off u ******* ****ing hell ur stupid as living hell just kill urself
15. Last rule go **** ur self.
I have studied the tight curls on the back of your neck
moving away from me
beyond anger or failure
your face in the evening schools of longing
through mornings of wish and ripen
we were always saying goodbye
in the blood in the bone over coffee
before dashing for elevators going
in opposite directions
without goodbyes.

Do not remember me as a bridge nor a roof
as the maker of legends
nor as a trap
door to that world
where black and white clericals
hang on the edge of beauty in five oclock elevators
twitching their shoulders to avoid other flesh
and now
there is someone to speak for them
moving away from me into tomorrows
morning of wish and ripen
your goodbye is a promise of lightning
in the last angels hand
unwelcome and warning
the sands have run out against us
we were rewarded by journeys
away from each other
into desire
into mornings alone
where excuse and endurance mingle
conceiving decision.
Do not remember me
as disaster
nor as the keeper of secrets
I am a fellow rider in the cattle cars
watching
you move slowly out of my bed
saying we cannot waste time
only ourselves.
-By Audre Lorde