Not Updated For Current Season
This guide has not yet been updated for the current season. Please keep this in mind while reading. You can see the most recently updated guides on the browse guides page
x
Yorick Build Guide by Prince Afghan

The Complete Season 9 Yorick Guide (UPDATED Patch 9.14)
x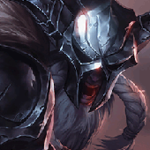 Did this guide help you? If so please give them a vote or leave a comment.
You can even win prizes by doing so!
I liked this Guide

I didn't like this Guide



Commenting is required to vote!

Thank You!
Your votes and comments encourage our guide authors to continue
creating helpful guides for the League of Legends community.
Runes:
Precision
Conqueror
Overheal
Legend: Bloodline
Coup de Grace
Resolve
Bone Plating
Demolish
Spells:
Flash
Teleport
Threats & Synergies
Threats
Synergies
Extreme
Major
Even
Minor
Tiny
Show All
Extreme Threats
Ideal Synergies
Tryndamere
Tryndamere can be one of the hardest matchups. He can spin onto you and destroy you in the early game and has the potential to dive you with the jungler after 6. Your main goal should be to survive early and try to match his splitpush. If it comes down to a race, A Yorick with Maiden and ghouls can push faster than a Tryndamere with several items but you never want to risk it.
Synergies
Champion Build Guide
Pros:
Good lane sustain.
Strong mid-late game.
Strong in lane against tanks.
Very good at splitpushing.
Independent playstyle (1 v 9 potential).
Cons:
Champions with dashes or other movement abilities can kite you very easily.
Can be bullied heavily by Fighters pre-level 6.
Weak in Teamfights
Low damage potential without Maiden or ghouls.
Yorick is one of those champions who has gone through great changes in the game but has never really caught a lot of popularity. For that reason he mostly been neglected by Riot for a long time as evidenced by the long time it takes for news about balancing and skins for Yorick to be created. Despite this, I still like maining Yorick as I think he has a very interesting kit and concept. The idea of allowing your ghouls to fight for you was something that always interested me and the gameplay itself really adds into it. Due to Yorick's lack of popularity, you are going to run into many people on both yours and the enemy's team who think you are trolling or don't even understand the kit itself. In these scenarios please proceed to show them whose boss as you run them over with your knowledge gained from having read this guide and watched my stream. :)
There exist many different schools of thought regarding Yorick's true playstyle in lane and out of lane, but I have found that the best playstyle for Yorick is that of a 100% splitpusher.

If you are new to top lane or just League of Legends in general, a splitpusher is quite literally a player, (usually the top laner), who will split off from the rest of the team and instead focus on taking down turrets and objectives. I like to think about Splitpushing in terms of resources. Lets consider that each team has a variable amount of "resources" at any given time of the game. Further we can say that each individual player can be attributed a certain number of resources, this arbitrary number being affected by, level advantage, gold and item advantages, for example. In a normal 5 v 5 teamfight, teams utilize all of their resources against each other and the team that wins is the one that usually has the most "resources" available and is most capable of using them in an efficient manner.

Splitpushing is special and unique style of play because it fundamentally upsets the balance and flow of the game. Now instead of 5 players throwing their resources at 5 other players, and vice versa, instead the enemy team must work together to bring together an appropriate amount of resources in order to stop you from simply taking their nexus. That can mean sending their most fed champion with plenty of "resources" or it can take form in sending 3 champions with lower levels of resources in order to deal with you. However it pans out, ultimately the goal is to create a scenario where the other 4 players of your team can come out with some sort of advantage as you divert the enemy team's resources towards you, rather than the rest of your team.
For a basic outlook on how I view certain lane matchups and their relative difficult go ahead and reference the "Matchups" section of this guide where I give short blurbs regarding each lane matchup relevant in the meta. I will advise you to take these matchups with a grain of salt as ultimately your lane matchup difficulty is going to come down to the skill of the enemy player. Take Riven for example. A good Riven can be an absolute nightmare and in higher elos you are mostly going to be up against players who understand the ins and outs of Riven and will destroy you in lane. Compare this to a low elo or unexperienced Riven and you have a champion who you can completely dumpster because you have a greater understanding of your champion and your gameplan than the Riven. The point is that you may find some matchups easier than what I have put marked them as and you may also find matchups that are way harder than what I have marked them as. Take into account the skill level of the enemy themselves, not just the champion they play.
You've now reached the end of this guide, as Season 9 progresses I will continue to update this guide with more matchups and analysis as I see fit.
My Twitch, where I will be streaming just about everyday can be found here. I'll usually be playing that young Yorick and destroying fools. Please come check it out and leave a follow, it helps immensely.
https://www.twitch.tv/princeafghan
My Youtube, where I will be uploading all sorts of Full Length gameplays and analysis as Season 9 progresses.
My Stream

02/02/19-
Added Matchup Information for Swain
Added Matchup Information for Mordekaiser